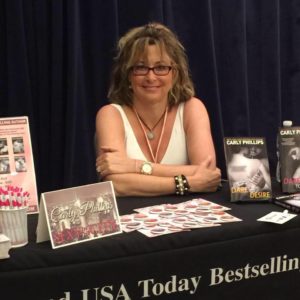 I was born … a 3 pound 7 ounce preemie and as I grew up, my hair didn't grow with me. I tend to think that's why I became hair obsessed as an adult. I've been many colors, styles, and even textures over the years. People often ask me what my natural color is. I'm not telling. It's more fun for you to guess. Obviously the hair grew. Some say it overgrew. And then the color fetish started and it continues. The most recent indulgence/experiment was Brazilian Keratin Conditioning and I love how much easier it is to work with my soft, straighter hair. Let's see how long it lasts!
I was raised … in Spring Valley, New York and attended Ramapo Senior High School. When I stepped onto the campus of Brandeis University (Waltham, MA) as a high school junior, I swore I wouldn't go anywhere else. There was a reason I knew I belonged only there. My husband and I met when we were in college (yes, I got into Brandeis much to my parents' relief).
I married … Phil understands me better than anyone else and always has. He's my best friend, my strongest supporter and the love of my life. From there, I attended Boston University School of Law and passed the New York and Connecticut Bar Exams. Did I think Law was my calling? No, but my father wanted me to be self sufficient in life, and I thank him for it! Unfortunately, I loved school and hated practicing law, which brings me to the next and most important phase of my life.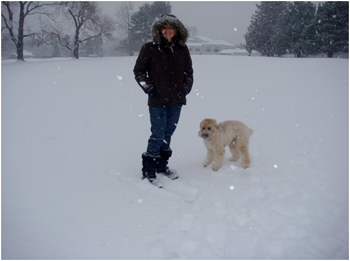 We have two girls … Two daughters, four years apart. Well planned for someone who knows their own limitations. I adore my girls, love our girl movie days, and shopping, and hanging out with them.
Then added our furkids …  For those of you who don't know (and if you don't, you seriously must be living under a rock), I have three dogs. These days, I have two soft coated wheaten terriers, Bailey and Tony, and a Havanese named Brady. And I'm obsessed with my dogs. I'll show you pictures if you ask, and even if you don't, so beware! For more info on my dogs – visit my FAQ page!
A King size bed isn't big enough … because we are a family of couch potatoes. OK not exactly. My husband's a golf champ,, but I love TV and really, so does the whole family. We can be found watching shows, Tivo-ing what we miss, and doing so from the comfort of our bedroom. I love to read (Romance, of course!) and browse fashion magazines and watch soaps, these days General Hospital (a fan since I'm 13) and Days of Our Lives.
Our Obsessions … Baseball. Since Phil is from New England, we're Boston Red Sox Fans, which works well here in New York (NOT!) only because I am a New York Mets Fan. To add to the fun, my mom is a die hard New York Yankees Fan, which makes for many fun family dinners. When Football season arrives, it's only the New England Patriots that are revered in our home. Come to the basement and you MUST kiss the FAT HEAD PATS HELMET!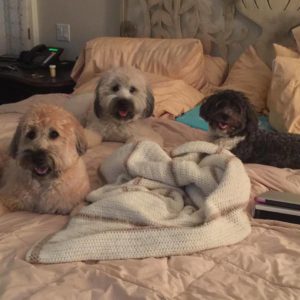 To Sum Up … I'm grateful for my blessings of which you, the reader are a part of! Thanks for buying my books.
I have often been asked, what's the best part about being a writer? Answer: Writers are blessed with the ability to work from home. The follow up, what's the worst part about being a writer? Answer: Writers are blessed with the ability to work from home.
The reasons for each are obvious: The good: I can set my own schedule, wear what I want and be home for my kids. The bad: I work from home. People think I'm available all the time; the kids forget something from school, I'm on the run. It's easy to forget my priorities have to be writing sometimes, but all in all, I'm pretty good at organization. I love what I do and I love being able to stay at home while I do it!
How did I get started as a writer? I remember my early days of writing so well. How did I begin? Sometimes I wonder myself! I never planned on becoming a writer, let alone a romance writer. I was a lawyer who loved law school but hated practicing law. Not a great combination, let me tell you! My parents always said I could be a perpetual student and they are probably right. But I loved reading romance when my first daughter was small. I began to notice that many of the hardcover authors got their start at Harlequin or Silhouette. Eventually I got an idea that wouldn't go away—I wanted to write for them too! Seven years and ten completed manuscripts later, I sold my first book, Brazen to Harlequin Temptation. You'll see that many of my older works are being reissued with new covers. Because I value you, the reader, I will always let you know if what you see on the shelves is a book you may have read before or if it's something brand new!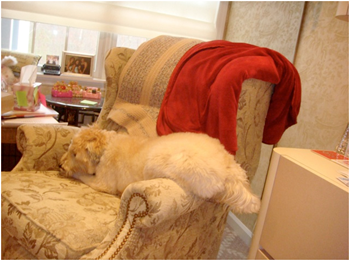 The inner sanctum … Where do I work? I have an office right off my bedroom. A separate room from my room that isn't on top of the kids and yet is right in the center of things. I'm always around when they need me and they come in here to do homework. I recently bought a recliner, an idea given to me by Vicki Lewis Thompson, who suggested I use it as my place to write with my Alphasmart on my lap. Unfortunately I use it to nap, instead. The coolest thing about my office? I used to have my favorite photos and posters up, but I've redone my office and gone more adult. Let's see how long THAT lasts. Based on the stuffed animals I still haven't parted with, I'm betting not for long!