Or as I like to call it…
Ask Bailey, Brady & Tony
This page is dedicated with love, woofs and treats to Buddy Drogin. For years, he answered questions on this page and loved doing it. We lost him on January 3, 2011 at the age of 12 1/2 and life hasn't been the same. It has, however gone on, and now Brady and Tony have brought lots of laughs (and aggravation to Bailey) – along with answers of their own.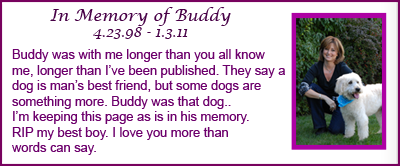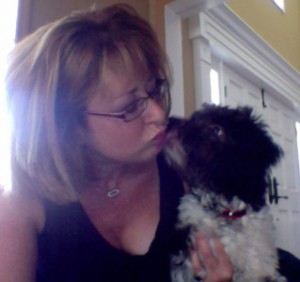 Here are some of the most frequently asked questions Carly receives via email, snail mail, etc. We, her loyal dogs, are happy to take more since chances are we'll answer them before she does!
---
What Kind of dogs are Bailey, Brady and Tony?
Bailey (who was around first) is a soft coated wheaten terrier. So is the new one, Tony. Brady is a Havanese.
What kind of dog is Brady and how did you name him?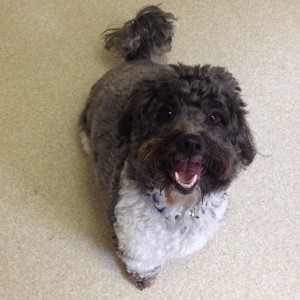 BAILEY'S ANSWER: First, let it be known I did not want another dog in this house. I was perfectly happy being an ONLY dog. I didn't talk to him for the first four weeks he was here. I was hoping he'd go away.
BRADY'S ANSWER: She didn't just not talk to me. She ran from me far and fast.  Let me introduce myself. I am a Havanese. I'm half Bailey's size (she's a hefty 30 pounds, LOL!) however, I'm not tiny – I'm larger than an average Hav at almost 19 pounds.  My family calls me the mutant.  Good thing I love them. Even so, I'm known as a small breed. I am named after Tom Brady of the New England Patriots (my daddy Phil being from Boston and all). They tell me my original name was to be Fenway (for the baseball stadium there) but thank goodness they decided to keep their "B" theme going!
Who's the New Guy?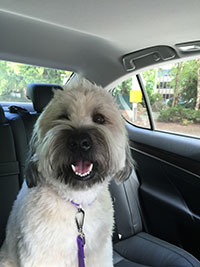 Bailey's Answer: Here we go again. I repeat my answer from when they brought the weird one home (that would be Brady). I did not want another dog. Things here were settled. After 4 years I'd finally accepted the dog with the big head wasn't going anywhere and they show up with this new one. His name is Tony. He's a rescue of sorts – he needed a home and my soft hearted parents were only too happy to provide it. The good news is he is another wheaten terrier like me. The bad news is they brought home another dog. Yep, I'm grumpy about it.
Brady's Answer: A friend, a new friend! I love having people to play with! I'm so excited that they brought home a big fluffy toy for me! Oh? It's not a toy? Okay another dog to wrestle with and that pays more attention to me than Bailey does. Yay!
ACTUAL CARLY FREQUENTLY ASKED QUESTIONS
Why did you start writing as Carly Phillips and how did you choose that name?
BAILEY'S ANSWER: Hey these were supposed to be easy questions. I'm the lazy dog, remember? Why doesn't she use her own name? Because back when Carly sold her first book to Harlequin, they asked her to take a pseudonym that was more modern and hip sounding than her traditional real name (Karen) and easier to remember than her married name (Drogin). She wanted a tie to her real life, chose the last name Phillips (her husband/my daddy's name is Phillip) and a name similar enough to Karen that the silly girl wouldn't forget it. Carly Phillips was born. Enough to confuse everyone in this house, let me tell you! ::woof::
What are the Carly Classics / Unexpected Love Series?
BRADY'S ANSWER: Carly had three books published under her real name (Karen Drogin) for a now defunct romance line called Zebra Bouquet.. (Perfect Partners, The Right Choice, and Solitary Man.) They are more serious books than those her readers are used to when they buy a Carly Phillips book. She also had a short story published in (also out of print) anthology. That title was Midnight Angel, and then there as Kismet which is the only Serendipity novella that Carly has the rights to publish on her own. She has grouped these books together as "Carly Classics", changed titles on three of them to make them more current, and she has also had them re-edited, updated and modernized for your reading enjoyment.
Carly Classics:
1. The Right Choice
2. Suddenly Love (Formerly titled Kismet)
3. Unexpected Chances (Formerly titled Midnight Angel)
4. Perfect Partners
5. Worthy of Love (Formerly titled Solitary Man)
*Note, these books can be read in any order and are not related.
How hard was it to publish your first book?
BAILEY'S ANSWER: HARD! And I would know, having been around longer than you know who! Carly had ten completed manuscripts and about seven years of writing and revising! Many close calls. A lot of discouragement. Tons of ice cream and jelly beans eaten during depressing times! But my mom works hard and tries to learn and grow with every book. ::woof!:: Check out the FOR WRITER'S section – there are articles that explain the process and can help aspiring writers.
When you start a new story do you outline everything first or do you create as you go along? Or a combination of the two?
BRADY'S ANSWER: I follow Carly everywhere. Even places she'd rather be alone so I know ALL the answers to all the questions. This one's easy for me. Carly told me she has tried all ways – from outlining, to writing by the seat of her pants, to … well crying.  I'm kidding.  She has a synopsis she uses as a guideline now, and she then lets the characters tell their stories.  She inevitably will get stuck and when she hits a trouble spot she brainstorms with the Plotmonkeys who help her get going again. But the characters always have the last say. It's their story after all!
I am having trouble finding some of your older books in paperback. Do you know where I can find them?
BRADY'S ANSWER: As you know, the times really have changed. Publishers are no longer reprinting older books because they are making them available in digital format.  I know not everyone has an eReader – and I am sorry about that – all I can say is if the publisher isn't selling copies any longer, you CAN read them on your computer if you don't own an eReader or Tablet.  Both Amazon/Kindle and BN/Nook have FREE applications you can download onto your computer – and then purchase the eBook.
Will you ever write character X/Y/Z's story from book A/B/C?
BRADY'S ANSWER: My mom says never say never — but if the book and character you're asking about is an older one, chances aren't good and she's sorry!
I've read in the back of the other SIMPLY books that there was also a book called Simply Sultry (Frankie's story). I can't find it. Was it published and if so when? Or was it renamed?
BAILEY'S ANSWER:  Unfortunately, Simply Sultry was never published. The other books in this series in order are: Simply Sinful, Simply Scandalous, Simply Sensual … followed by Body Heat and Simply Sexy.
Will you ever finish the Illegitimate Sibling books in the Dare To Love Series?
TONY'S ANSWER: See above. Never say never. Mom needed a break from the series and she may return. Or not. But you can always read the KINDLE WORLD books by other authors in the Dare to Love Kindle World for more Dare series fun.
---
If you have other questions, Email me via the Contact Carly page and ask us to include it here! We sneak peeks at her mail when she isn't looking!