Some like it hot!
Night after night, Brianne Nelson has fantasized about a sexy stranger she met at the cafe where she works part-time. Never in her wildest dreams did she imagine that he'd turn out to be a client for her "real" job, as a physical therapist – or how much better Jake would look with his clothes off!
Thanks to his wealthy sister, injured detective Jake Lowell is the recipient of Brianne's personal services for the next month. Determined to get well enough to go after the guy who shot him, Jake is in desperate need of Brianne's healing touch. But when the "therapy" sessions evolve into something a little steamier, Jake and Brianne are in for a reality that makes their hottest fantasies look like child's play.
Though not a "Simply" book, Body Heat is related to the Simply series by connecting characters!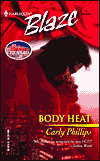 Original Publication: September 1, 2001
Harlequin Blaze