Carly at Home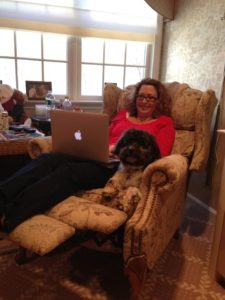 I was born … a 3 pound 7 ounce preemie and as I grew up, my hair didn't grow with me. I tend to think that's why I became hair obsessed as an adult. I've been many colors, styles, and even textures over the years. People often ask me what my natural color is. I'm not telling. It's more fun for you to guess. Obviously the hair grew. Some say it overgrew. And then the color fetish started and it continues. The most recent indulgence/experiment was Brazilian Keratin Conditioning and I love how much easier it is to work with my soft, straighter hair. Let's see how long it lasts!
I was raised … in Spring Valley, New York and attended Ramapo Senior High School. When I stepped onto the campus of Brandeis University (Waltham, MA) as a high school junior, I swore I wouldn't go anywhere else. There was a reason I knew I belonged only there. My husband and I met when we were in college (yes, I got into Brandeis much to my parents' relief).
I married … Phil understands me better than anyone else and always has. He's my best friend, my strongest supporter and the love of my life. From there, I attended Boston University School of Law and passed the New York and Connecticut Bar Exams. Did I think Law was my calling? No, but my father wanted me to be self sufficient in life, and I thank him for it! Unfortunately, I loved school and hated practicing law, which brings me to the next and most important phase of my life.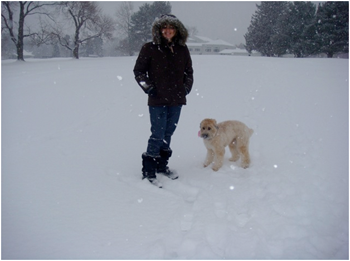 We have two girls … Two daughters, four years apart. Well planned for someone who knows their own limitations. I adore my girls, love our girl movie days, and shopping, and hanging out with them. These days, its all teenagers and hormones. Poor me!
Then added two furkids …  For those of you who don't know (and if you don't, you seriously must be living under a rock), I have two dogs. One soft coated wheaten terrier, Bailey and a Havanese named Brady.  And I'm obsessed with my dogs. I'll show you pictures if you ask, and even if you don't, so beware! For more info on my dogs – visit my FAQ page!
A King size bed isn't big enough … because we are a family of couch potatoes. OK not exactly. My husband's a golf champ and my daughters are field hockey players, but I love TV and really, so do they. We can be found watching shows, Tivo-ing what we miss, and doing so from the comfort of our bedroom. I love to read (Romance, of course!) and browse fashion magazines, watch ABC soaps (do any others really count?) and go crazy on the television off season.
Our Obsessions … Baseball. Since Phil is from New England, we're Boston Red Sox Fans, which works well here in New York (NOT!) only because I am a New York Mets Fan. To add to the fun, my mom is a die hard New York Yankees Fan, which makes for many fun family dinners. When Football season arrives, it's only the New England Patriots that are revered in our home. Come to the basement and you MUST kiss the FAT HEAD PATS HELMET!
To Sum Up … I'm grateful for my blessings of which you, the reader are a part of! Thanks for buying my books.