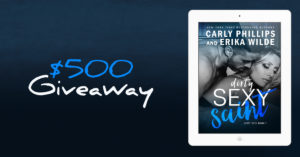 MEET CLAY KINCAID our DIRTY SEXY SAINT coming 1/19/16!
Enter to win one of TWO $250 Amazon Gift Cards!
PREORDER your copy of DIRTY SEXY SAINT:
If you've already pre-ordered, just enter giveaway now!
FB IS NOT ASSOCIATED WITH THIS GIVEAWAY.
No Purchase Necessary to win.
***********************************************
Are you ready to get Dirty Sexy with a Saint?
Clay Kincaid knows he's more a sinner than a saint. Especially when it comes to women. With a rough and damaged past that has left him jaded, he doesn't do committed relationships. But he does like sex—the hotter and harder, the better. He likes it fast and filthy, which is why he refuses to even touch someone as sweet and guileless as Samantha Jamieson. Until he discovers that she likes it just as down and dirty as he does.