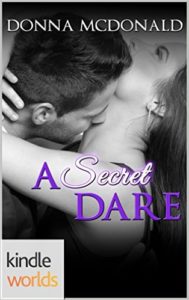 Their love was no secret, but did he dare tell her the rest of the truth?
Aurora Snow has a secret—one she inherited from her dying mother. Now she has to decide what to do about it, which is especially hard when she doesn't believe it can be true. For over forty years, she's never cared about what her mother was hiding about the past. Why should learning about her father change anything now? She's happy with herself, her art, and the new man in her life. Jeremiah is everything she ever dreamed of finding in a man. Isn't the perfect lover really all a woman needs to be happy?
Jeremiah Cranston has secrets. The biggest is that he's fallen crazily in love with the target of his investigation. His boss is already upset that he's sleeping with her. Jeremiah's more upset that he's having to lie to Aurora about his purpose in her life. Finding out she's a Dare would be the worst thing possible for both of them, even if it is his job to do just that. When all his secrets are revealed to Aurora, it's going to be hard as hell for him to protect a woman who hates him.
Donna McDonald
After 35 years of doing everything for a living except writing books, I finally published my first romance novel in March of 2011. Thirty novels later, I am living my own "happily ever after" life as a full time romance author. I give back to the universe by hanging out to write at local coffee shops and keeping them in business. Addicted to making readers laugh, I include a good dose of humor in every book.
NOTE FROM AUTHOR: Thank you for visiting my Amazon Author page and for choosing to buy my books. I love to hear from readers and will try my best to answer back. You are truly the reason I write. Happy Reading!
You can write to me at email@donnamcdonaldauthor.com.
Visit me at www.donnamcdonaldauthor.com.