Consumed By the Dare by Casey Hagen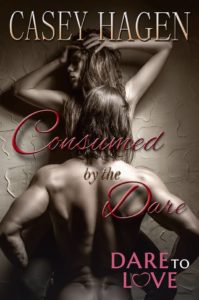 London Abbott, head librarian of the Bronx Public Library, is determined to turn a reading initiative into a raving success, solidifying the career and financial security she craves. Adding the burden of a tag-along playboy trying to improve his tarnished image is a stressor London doesn't need, but when a trusted friend calls in a favor, she's saddled with bad-boy football star Ryker Christiansen.
Ryker never imagined his lucrative contract with the Miami Thunder would ever be at risk, but after too many nights of partying he's told to repair his tattered reputation or be terminated. Sent to New York to preen for the media and show his altruistic side by working with children and seniors, he's committed to sitting in a Bookmobile with antsy kids, ornery seniors, and taking orders from a snotty librarian.
Unsympathetic, London tests Ryker's mettle without mercy. He earns her respect by meeting every challenge she creates, proving he's more than just one more overindulged athlete. But there is one more prize he's determined to win, so he dares London to step out of her carefully constructed world for a walk with him on the wild side.
London expects to bring Ryker down a notch or two, but as their slow-burning heat erupts into sexual flames, the intensity of the fire threatens to either destroy their hearts or forge them together. Discovering which comes with a price. Will they emerge stronger? Or are they destined to be…Consumed by the Dare.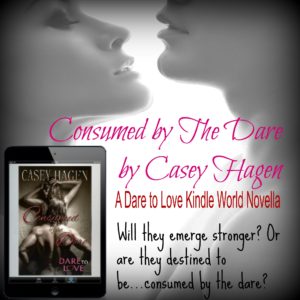 Casey Hagen is a debut contemporary romance author releasing her first book, Falling in Fiji, in October. She writes her stories from the dense, green wilderness of the Delaware National Forest, Middle of Nowhere, Pennsylvania. She's a born and raised Vermont native with Ben & Jerry's in her heart and real Vermont maple syrup pumping through her veins.
Over the years, Casey has dabbled in a wide variety of professions. She worked in the States Attorney's office, created beautiful works of art as a florist, slaved to the public in retail, taught preschool (and potty trained eleven two-year-olds at the same time), and finally, she owned and operated her own residential cleaning business for over a decade. She is also the new Vice President of the Penn Jersey Women Writers Guild.
Casey is the proud mother of three girls, two of which are successful college students…yay! She resides with her youngest daughter, husband, and two cats. Her days are spent in her new office that she proudly admits they would need dynamite to blast her out of! When she's not working she can be found chasing after her youngest with a camera (much to her youngest daughter's embarrassment) or on the golf course with her real life hero!Author Media Links
 Website – www.caseyhagenauthor.com 
Twitter –https://twitter.com/CaseyHagenAuth
Facebook –https://www.facebook.com/CaseyHagenAuthor
Pinterest –https://www.pinterest.com/caseyhagenauth/
Tumblr –https://www.tumblr.com/blog/caseyhagen
Instagram –https://instagram.com/caseyhagenauthor/
Google+ –https://plus.google.com/u/0/110718249370975627772/posts