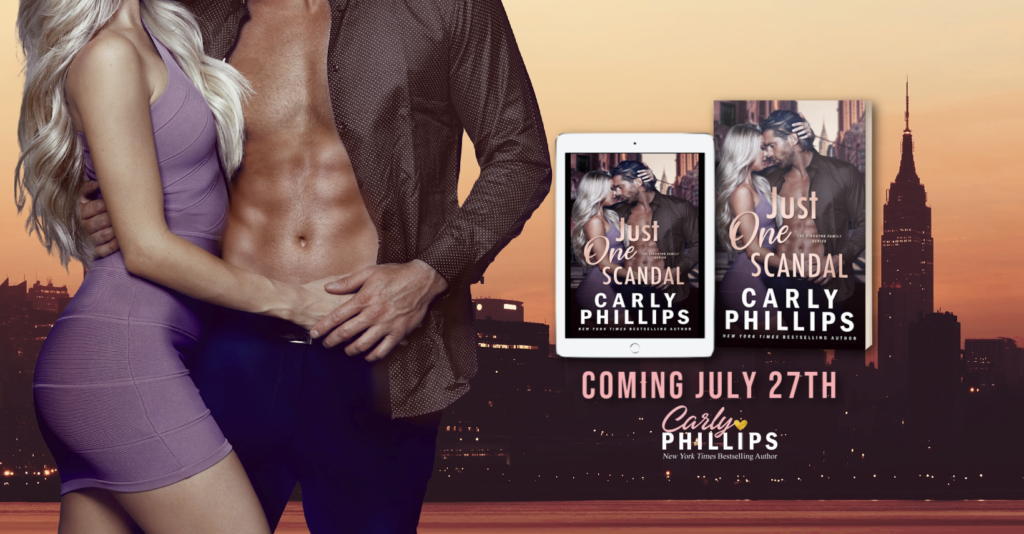 Just One Scandal is Chloe Kingston and her brother, Linc's ex-best friend and current business rival's story. Sparks fly … not only between Chloe and Beck, but between Linc and his one time pal when he finds the two together in the bridal suite the morning after the non-wedding. Intrigued? You can preorder Just One Scandal which comes out July 27th.
Release Date: July 27, 2021
Preorder Now
Kindle | Nook | Apple | Kobo | Googleplay | Amazon Print
Audio with McKenzie Cartwright and Connor Crais!
Just One Scandal
A jilted bride. Her brother's ex-buddy. A fake affair would be crazy…right?
Chloe Kingston's life is exactly how she needs it: safe and stable. Right up until her reliable, low-risk fiancé jilts her on their fairy-tale wedding day. As she works her way through the reception champagne—and wonders where she's going to live—she stumbles into her brother Linc's ex-best friend.
If only Beckett Daniels was hideous. But he's not. He's everything her erstwhile groom was not. Hot. Sexy. Dangerous. And she's just buzzed enough to want all that Greek-god gorgeousness to show her the kind of fun she's been missing.
Beck thrives on calculated risks, but taking advantage of Linc's little sister isn't one of them. What he can do is haul her tipsy, tulle-clad, tempting little butt to the bridal suite to sleep it off. Then move her into his spare room—which has the satisfying side effect of driving her brother crazy.
With the paparazzi tracking their every move, they resort to a fake relationship to cool the hottest topic on the society pages. But when tragedy threatens, pain from their past reminds them that life doesn't come without risks…and this time, they've gambled with their hearts.
Hang out with me!
Facebook @carlyphillipsfanpage
Carly's Corner Fan Group @CarlysCornerFB