London With A Dare by Jennifer Conner and Angela Ford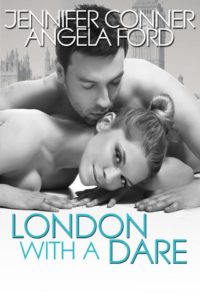 Grab your copy on Amazon now
Chapple Palmer is the captain of one of the top soccer teams in the world, the London Lions. He should get more respect, but due to bad press he has a bad boy reputation in the British tabloids that he can't seem to shake. In fact, he's even beginning to believe the things they say about him. Chapple knows his playing days are numbered and the last thing he needs is to be stuck babysitting an American billionaire, Ian Dare and his wife, who are there to promote Dare's American football team's exhibition game in London.
Elisha Sheppard is fairly new at being the Dare's scheduling assistant. She knows how important it is to stay professional and detail oriented at every moment. So why is Elisha letting herself be distracted by Chapple Palmer who she can guess is nothing but trouble, not to mention a heart-breaker? Why is she finding it so easy to say yes to his every invitation when her brain is screaming no?
After a disastrous sexual encounter with Elisha, Chapple realizes that he's proved the truth in all the tabloid rumors. Why would Elisha even talk to him? How can he make it up to her? Chapple feels a connection with Elisha he hasn't felt with a woman in a long time. If she'll give him another chance, he'll prove to her that he's the lover she's only dreamed of. But can he also trust her with his heart?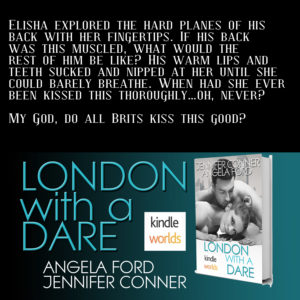 Jennifer Conner is a best-selling Northwest author who has over eighty short, novella and full-length books in ebook, print, and audiobooks. She writes in Christmas Romance, Contemporary Romance, Paranormal Romance, Historical Romance, and Erotica.
She has hit Amazon's top fifty authors ranking and her books have been #1 in sales.
Her novel Shot in the Dark was a finalist in the Emerald City Opener, Cleveland, and Toronto RWA contests.
She lives in a hundred year old house that she grew up in. Her semi-small town holds an interesting mix of resident hillbillies, yuppies and Navy Seals. And of course Seattle, only a few miles away, is the birthplace of Starbucks so coffee is always on the check list. She blows glass beads with a blow torch, (which relieves a lot of stress and people don't bother you) and is a huge fan of musicals.
Angela Ford
Bestselling Romantic Suspense & Contemporary Romance / Top 50 Authors on Amazon Kindle
Angela Ford originates from Nova Scotia…Canada's Ocean Playground!
Her love of the ocean and sunsets are always in her heart and give her inspiration. Her love for words keeps her turning the page. She is never without a book, whether she's reading or writing. Now residing in Ontario, Angela works in Finance – numbers by day – words by night. Her dedication to volunteer and involvement with cyber safety seminars gave her an Award of Distinction and sparked the idea for her first book Closure – Best Selling Action/Adventure/Crime/Suspense. Ms. Ford continued her FBI series with Forbidden and Obsessed. In between mysteries, Ms. Ford writes short contemporary romance…sometimes with a dash of suspense!
Being a mom, her home is always filled with young adults and rather interesting stories; but it is the furry family members who rule the house – a Puggle, a Chug puppy and two loveable cats. Every possible quiet moment she finds, she treasures and just writes about the moments to come. Angela is an avid reader of romance, a member of the RWA, KOD (Kiss of Death – Suspense Chapter) and Mississauga Writers Group. Visit her website Romantic Escapes at
http://www.angelafordauthor.com
 to connect with her on social media. She loves to hear from her readers – they keep her smiling!