Daring to Try by Cassandra Carr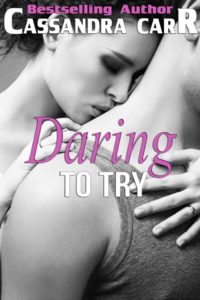 Wide receiver Taylor Wilkinson's worst nightmare has come true. As a member of the Miami Thunder professional football team, Taylor has always prided himself on staying in shape and playing smart. What he didn't count on was a three hundred twenty pound defensive lineman tackling him and using his body to cushion his own fall to the turf. Over the roar of the crowd on Thanksgiving Day, Taylor heard the pop in his shoulder and knew things would never be the same.
Fresh out of surgery to repair the double break in his collarbone, his season is over. After ten years in the league, Taylor fears his career might be too – not many players last into their thirties in professional football. Pinning his hopes on Sherryl Stoddard, the best sports psychologist in Miami, he's ready to do whatever it takes to get over his fears and back onto the field. Now, if only he could stop thinking about Sherryl's curves…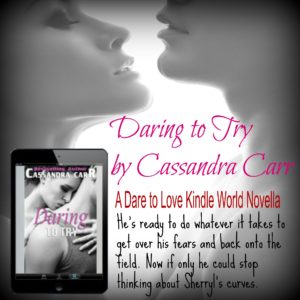 Cassandra Carr
is a multi-award winning writer. When not writing she enjoys rooting for her beloved hockey team – the Buffalo Sabres, taking her daughter on grand adventures, and binge watching TV shows. Cassandra's books have won numerous "Best Book Of" awards and her novella Power Shift (former title Unexpected Top) was nominated in the E-book Erotic Romance category of RT's Reviewers' Choice Awards.
She thinks the best part of being a writer is penning stories in her made-up worlds while most others struggle with commutes, micro-managing bosses and cranky co-workers.
Website http://www.booksbycassandracarr.com
Facebook http://www.facebook.com/AuthorCassandraCarr
Twitter http://www.twitter.com/Cassandra_Carr
Email AuthorCassandraCarr AT gmail.com