I can't believe JUST ONE SPARK, rock star, Dash Kingston and Cassidy Forrester's story is here!
The early reviews have been amazing and I'm so excited for you to read them. I hope you'll preorder today!

"I loved this story, from the first to the last chapter. The writing was strong, the story fast paced, the characters engaging and easy to relate too. As secrets are revealed will it tear Dash and Cassidy apart once and for all? One click and find out."
Erin Lewis, Thelma and Louise Book Blog

"Just One Spark was a sweet, funny and hot second-chance love story! Who doesn't love it when a rock star is brought to his knees by THE woman?! There was much to love about this book…"
Heather, Goodreads Reviewer

"The book is enthralling. It's a flawlessly written book with characters that make you yearn for such bonds and have such people in your life. It was a read filled with emotions. Books like "Just One Spark" make you realise the most important thing in life is family and friends who genuinely care."
Neeru Rana, @Reviews_From_A_Bibliophile

"Awesome characters and a beautifully written storyline prove once again that Carly Phillips never disappoints!!"
Nicki, The Overflowing Bookcase
Get your copy today! I hope you enjoy!
Take care and happy reading!
Xo Carly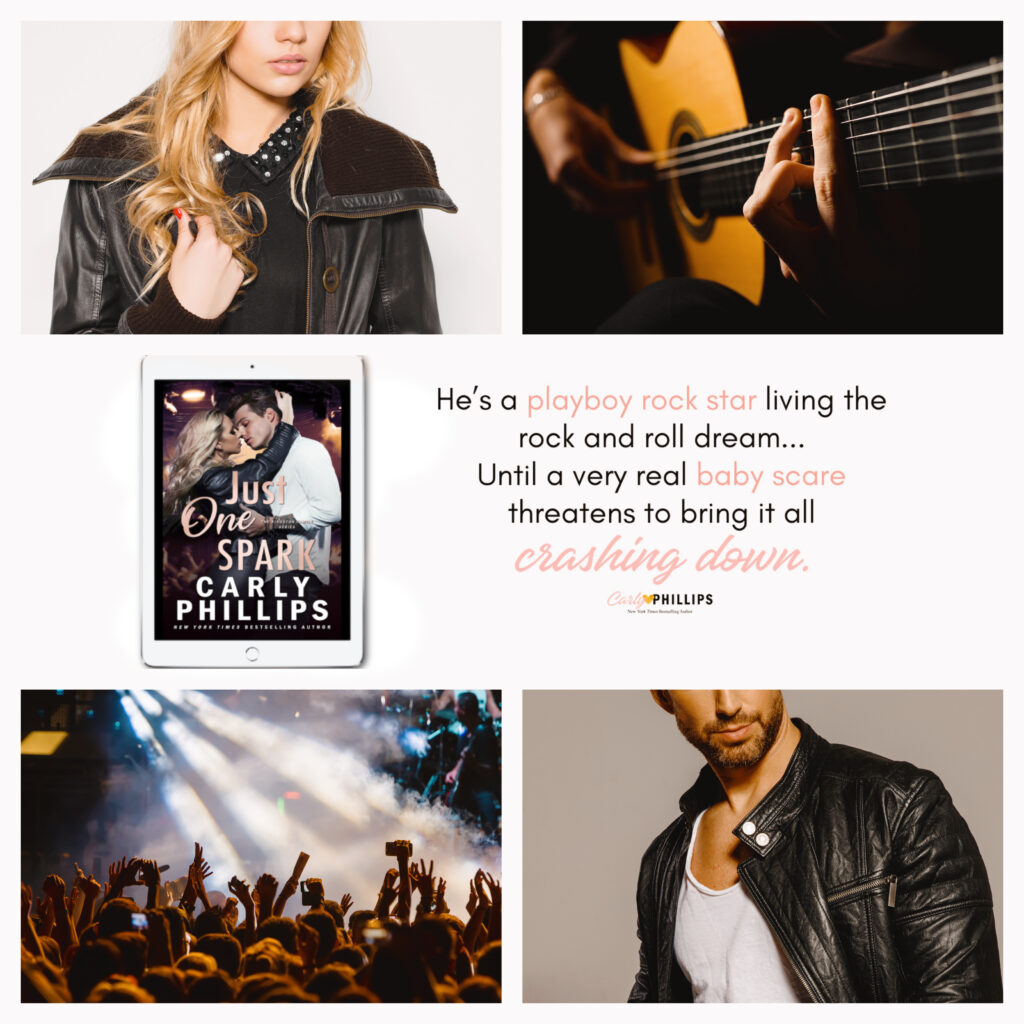 He's a playboy rock star living the rock and roll dream…
Until a very real baby scare threatens to bring it all crashing down.
Dash Kingston has learned his lesson and knows his hard-partying lifestyle needs to change. To clean up his playboy image, he needs a fake girlfriend.
There's just one problem: the perfect woman for the job is a gorgeous blonde who once aroused not just his body but his emotions, sending him running. And leaving her to wake up alone.
For the band's sake, Cassidy Forrester agrees to play the girlfriend role, but she's not going to fall for Dash's charm or sex appeal ever again.
Except this Dash Kingston swears he's a changed man, and he's out to win Cassidy over – for good. But only a fool would make the same mistake twice, and Cassidy refuses to let their spark burn her a second time.
READ NOW:
Kindle: https://smarturl.it/OneSparkKindle
Nook: https://smarturl.it/OneSparkNook
Apple: https://smarturl.it/OneSparkApple
Kobo: https://smarturl.it/OneSparkKobo
Googleplay: https://smarturl.it/OneSparkGoogle
Amazon Print: https://smarturl.it/OneSparkAmzAPrint
Audible: https://smarturl.it/OneSparkAudible
Amazon Audio: https://smarturl.it/OneSparkAmzAudio