EXCITING NEWS!
Today I am launching the DARE TO LOVE KINDLE WORLD. This means I have licensed the world to Amazon so that other authors can bring you stories that are extensions of my Dare to Love world. I asked these authors personally — and I am humbled with how they dropped everything in their schedule to write a book to launch with not a lot of time. They're talented and you will love their stories. Read on for their book info and buy links!
In each Kindle World book, you'll see familiar faces, maybe even characters you met on my pages and wondered what happened to them. While I'll be the only author writing the Dare sibling stories (you can refer to the Dare Family Tree for my upcoming books), authors are free to write secondary characters and my Dare siblings turn up as well.
Today the world launches with 9 stories by amazingly talented authors with all new heroes and heroines who will leap out at you and heat up the pages. Read on to see who is contributing fantastic stories. And for the next 9 days, I will feature each author's story and connection to my DARE TO LOVE World. Each story is $1.99 and one longer story for $3.99 and I hope you will give them all a try!
NOTE:
As the world is licensed to Amazon, the books are available on Amazon only. If you aren't a Kindle user, no worries! You can still read the stories on the FREE Kindle APP that you can download on your computer, smart phone or tablet. DOWNLOAD HERE!

PLEASE READ!!! As the world is licensed to Amazon, the books are available on KINDLE ONLY. If you aren't a Kindle user, no worries! You can still read the stories on the FREE Kindle APP that you can download on your computer, smart phone or tablet. DOWNLOAD HERE.

US READERS ONLY – this is OUT of my control. If you live outside the US and want to read these books PLEASE write and let Amazon know there is interest!
DARE ME by KELLY JAMIESON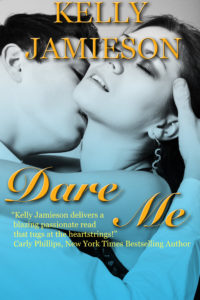 Love hurts…even when you don't believe in it…
Interior designer Micki Arnott is anticipating her boyfriend's marriage proposal with excitement. She and prominent businessman Garrett Caulfield have been seeing each other for over a year and they're in love. Okay, maybe Garrett hasn't actually said those three little words, but Micki knows he feels them. But instead of a diamond ring, Garrett hands her a contract…
Garrett wants Micki to move in with him, to commit to him and only him, but he doesn't believe in love and marriage. After watching his parents cheat and hurt each other all while proclaiming their love, that's not what he wants his life to be. A contract seems like the perfect way to make sure he and Micki both understand the parameters of their relationship.
When Micki throws Garrett's contract in his face and tells him to never call her again, he's shocked and confused. He's not a quitter, but he's not going to fight with Micki like his parents did. Micki knows she's doing the right thing—she deserves to be loved and isn't going to waste her life on a man who doesn't even believe in love. Garrett blames his misery on too much scotch…but what if that pain isn't really the mother of all hangovers…what if it's…love?
HOT DARE by AVERY FLYNN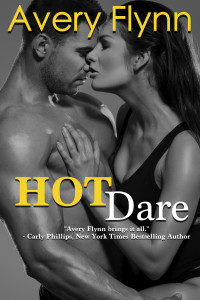 He shows some of his best moves off the field.
 Hell is a Miami Thunder fan cruise to the Bahamas—at least, that's how Colt "45" Butler sees it. But with his job as the team's starting linebacker in question, he's willing to do whatever it takes to prove he's a team player. Plus, the prospect of having his one-night Vegas fling, Angie Diaz, as his VIP liaison for the cruise just might make the whole ordeal tolerable. All he needs it to get her back in his bed for some Vegas-rules fun on the high seas. 
Cheap wine and expensive ice cream, that's how anyone fool enough to get involved with a Thunder football player always drowns their sorrows after getting dumped. Angie Diaz isn't about to become one of the many—no matter how close she got to the look-but-don't-touch line with the hot linebacker. Mixing business and pleasure with Colt is one dare her heart can't afford to take…but being with him day and night is making is a dare she can't resist.
TRUTH OR DARE by ALLIE K. ADAMS
From the USA Today bestselling author of the Roadhouse series…
He truthfully believes he's better off alone. She challenges him to live up to the Dare family name.
Adam Dare has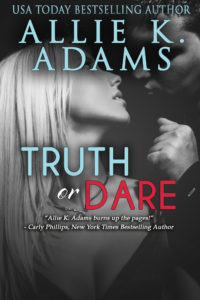 never asked for anything from his biological father. Robert Dare lives in Florida with not one but two families. While the rest of his half brothers and sisters grew up surrounded by family and eating from a silver spoon, Adam was an only child in Montana, living off the land and struggling to survive. Now a respected vet with his own practice, he's facing an insurmountable task, one where he needs all the help he can get. Discovering a pretty, yet troublesome stowaway in the bed of his truck only adds to the mounting chaos. Adam doesn't have time to deal with her during branding season, yet can't deny the overwhelming draw to her. A litter of Dares are on their way to the luxury ranch he's working at, and he can't afford any distractions—especially one with golden blonde hair and pretty cornflower blue eyes.
Amber Bigsby has lived on her own since the day after graduating from high school. After a disastrous date takes a dangerous turn, she hides in a pile of hay in the back of a truck, only to awaken to find herself at a ranch in Montana, searching for the cowboy who saved her. When she spots Adam, she's drawn to him to like a moth to a flame. Discovering he's a Dare has her torn between running away and giving in to temptation. Maybe it's time to play a little truth or dare…
If she wins, he's forced to face what it means to be a Dare. If he wins, the truth comes out. The two may not be exclusive. All bets are off when love is on the line, especially when playing…
 DARING MASQUERADE by ALANNAH LYNNE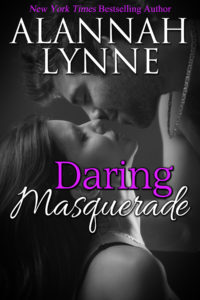 When a hired heartbreaker falls for her target, both their hearts are at risk…
For the past five years, Becca Irving (aka Carmella Jones, aka Karma) has worked as a hired heartbreaker, seeking revenge and justice against men who thoughtlessly hurt the women who love them. She expects her next mark to be just as callous, but Jon isn't her typical target. He's a good man with a loving nature and dominant streak that crushes her walls and tempts her into believing love can be real and lasting.
From the moment he lays eyes on the beguiling redhead, Jonathon Ridgeway is hooked. When a sensuous dance leads to an erotic weekend aboard his boat, he realizes he needs more than a brief affair with the complex and tantalizing woman.
But neither Jon nor Becca are who—or what—they seem. Will he be able to forgive her past actions? Can she overlook his? Or will they both be left brokenhearted by the secrets of their past?
I DARE YOU by LESLIE KELLY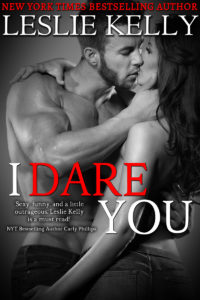 A Leslie Kelly story set in New York Times Bestselling Author Carly Phillips' "Dare To Love" Kindle World!
Marcus "Big" Bigsby is retiring after a successful NFL career, ready for a quiet, simple life on a ranch in Oklahoma. But his plan to forget the past is rocked when he comes face-to-face with his high school dreamgirl, the one who got away…the one he never forgot. 
Blair Tremaine has heard Marcus is living in tiny little Caribou, but she's done her best to avoid him. She'd been crazy about him in high school, but they'd always seemed miles apart–her the bookish rich girl, him the football-playing farmboy. 
Now they're thrown together again, and this time nothing will stop them from finally getting what they've always wanted: each other!
 DARING ATTRACTION by MELANIE SHAWN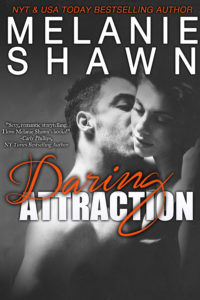 When it came to star athletes, it didn't get any hotter than Cole Carson. The starting quarterback for the Miami Thunder had game both on and off the field. But when he met Julianna, he knew that he'd have to bring more than just the status quo to the stunning, single mom's already-hectic life if he had a chance of winning her heart.
Life had tackled Julianna Perez with some pretty harsh hits, but she'd take them and more if it meant providing her ten-year-old with a safe and stable environment. Living by her to-do lists and focusing on Anthony's needs, the breathtakingly beautiful single mother never acknowledged her own until they were brought to the surface by a sexy football player.
A commanding captain on the football field, Cole knew how to take the lead in every situation and he wanted to be the solution and more for his newfound love. But will he be able to navigate through the complexities and realities of being with a single mom, no matter how badly he wants to right her world? Will Julianna trust Cole enough to let him into the stable life she created and protected for Anthony and for herself?
With love on the line, Cole and Julianna will both be forced out of their comfort zones in…Daring Attraction
DARING THE PLAYER by ROBIN COVINGTON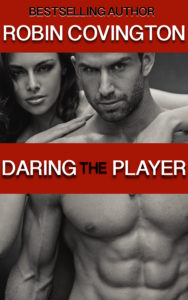 Raised by a pro football legend, Miami Thunder wide receiver Rep Grissom has a career most would envy.  A toxic marriage with a party girl almost put him on the sidelines, but now he keeps his head down and makes the moves on the field that leave younger players in his dust. Now all he has to do is maintain the status quo and he's guaranteed a lucrative new contract at an age when most guys are retiring.
Lola Corbin is used to leaving all the big boys in her rearview mirror. The lead singer in the worlds biggest rock band she fills up arenas and closes down the clubs but with the group on the brink of breaking apart her future is uncertain. Years spent on the road has left her with nothing at home except platinum records on the walls, an empty fridge and a cold bed. For the first time, she's looking for something and someone beyond the spotlight.
When Lola's first night in her condo ends with Rep breaking up a fight he realizes that temptation has moved in next door. Lola doesn't usually go for the strong and serious type, but the more she sees of her neighbor, the more she wants. When a thank you dinner turns into dancing and a hot tryst in the back of the club their attraction cannot be denied. But when Lola-induced trouble results in a front-page-career-ending spectacle the player must decide if he's going to be as daring with his heart as he is on the field.
DARE ME ONCE by MARQUITA VALENTINE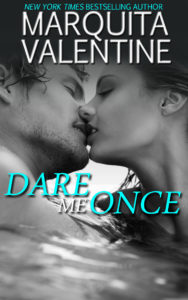 All police detective, Bryce Sinclair, wants is two weeks away from it all, and his grandparents' cottage on the Chesapeake Bay shore fits the bill. A fridge full of beer and blue crabs is all he needs. Though, the hot, little waitress at the pier would be a welcome addition. He's not looking for forever, just a good time.
Kayla White doesn't have time for tourists who try to buy her personal time instead of her award winning crab cakes. She's too busy trying to start over after the last man stole her heart…and cleaned out her bank account. But, when a sexy, smooth talking stranger catches her attention, will she dare take a chance on him?
THE BILLIONAIRE'S DARE by LAUREN HAWKEYE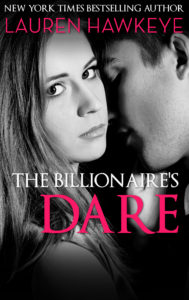 What happens in New York…
Evangeline Wyatt, the brand new "team behaviour manager" for Miami Thunder, doesn't have time for a relationship. At least, that's what she's told herself since being burned by one of the Thunder's biggest playboys. It's the height of humiliation when she finds herself stuck accompanying said ex to a New York kink club to keep him out of the tabloids. But when she meets a sexy, slightly familiar looking stranger with whom chemistry instantly sparks, she finds herself letting go… only to be reminded why her rules were there in the first place.
Nick Aitken is the star rookie of the New York Vikings, a team with a longstanding rivalry against Miami Thunder. At first he approaches the admittedly delectable woman only because she's with one of his biggest opponents. But what ignites between them is more than he can resist…
Evangeline is certain that they're all wrong for one another. Nick's not so sure. But he'll do anything for a second taste…
Anything. "Evangeline, I dare you…"