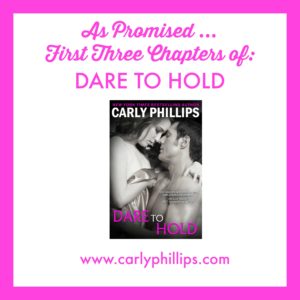 THANK YOU for helping me with my PREORDER CAMPAIGN!
As promised: FIRST THREE CHAPTERS of DARE TO HOLD … VIEW HERE:
https://carlyphillips.com/dare-to-hold-2/
AND remember … GIVEAWAY still ongoing!
When I hit the 6k goal, I will give away a $50 Amazon Gift Card!
TO ENTER – PREORDER – DARE TO HOLD (links below)– and ENTER THE PREORDER CONTEST by filling out form — http://tinyurl.com/pq9uk26
**If you've already preordered just fill out the form & SHARE w/YOUR FRIENDS!
Preorder Links:
Dare to Hold
Kindle – http://amzn.to/1BCvAcJ
Nook – http://tinyurl.com/ozctnnl
iBooks – http://tinyurl.com/nhyogod
Kobo – http://tinyurl.com/plm2vrm
Google Play – http://tinyurl.com/pxleov3
Print – http://amzn.to/1CZphio
Audio – coming late spring
Enter to win: http://tinyurl.com/pq9uk26