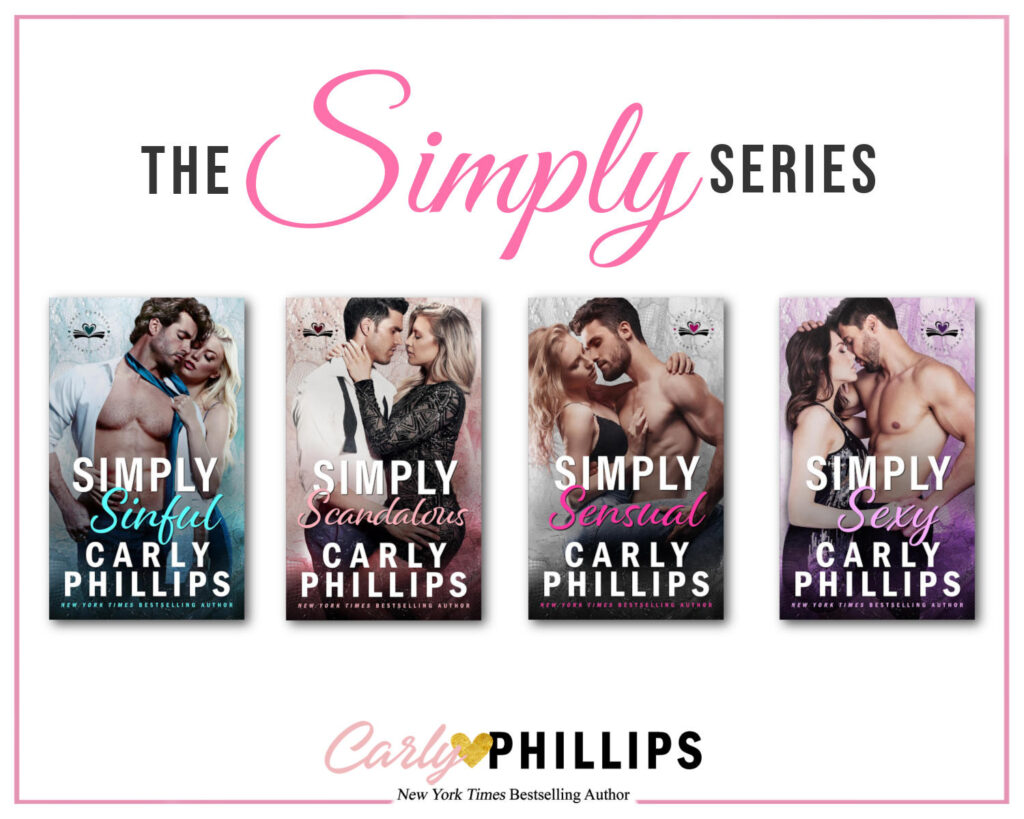 Dear Reader:
SURPRISE!
I have a fun surprise for you, a reissue of four earlier Carly books, written when I first began publishing with Harlequin! Simply Sinful and Simply Scandalous will be available on May 11th and Simply Sensual and Simply Sexy on June 15th. Just a reminder, although I have heavily edited these books and modernized them, they were written around the year 2000 and the writing style is very different from my current books so they are falling under the Carly Classics header! I hope you enjoy this blast from the past!
THE SIMPLY SERIES:
SIMPLY SINFUL
He's not the man she thought he was. But when danger lurks, he's the man she needs.
Any rookie on the force could verify if Charmed! is a legit etiquette school for businessmen, or…something else. But coming off a wrenching drug bust, Detective Kane McDermott's captain gave him a choice. Take the fluff case, or take enforced time off.
The moment Kane meets Kayla Luck, he's in trouble. She's fierce, keen-eyed intelligence in a body built for sin. And when they touch, the jolt of desire reminds him it's never wise to mix police work with pleasure.
Kayla is used to handling men who are more focused on her curves than her mind. But when her newest client arrives for lessons in foreign language and business etiquette, she's the one who can't tear her eyes off all those muscles wrapped in a sexy, double-breasted suit.
Dinner out leads to a hot night in bed, and Kayla falls hard and fast. Until she learns the business suit hides a badge, and she calls it quits. But Kane's already lost his heart—and discovered she's in danger. And if he can't convince her she's safe with him, he'll lose the woman he loves.
PREORDER for 5/11
SIMPLY SCANDALOUS
He runs in high society circles…and he's running circles around her heart.
In retrospect, it was all Gran's fault.
Logan Montgomery has found his niche as an assistant district attorney. But Gran just revealed some worrying intel—dear old dad and his political cronies are about to maneuver him into running for mayor.
But Gran has a plan. A pre-emptive strike involving a pretty blonde caterer with supple curves—and a family history literally dripping with scandal. There's just one flaw in his grandmother's scheme: Logan's not a player. And there's a delicious spark of attraction that makes him want to try for something special with Catherine Luck.
It's a mystery to Catherine why Logan, who sits at the very top of the social ladder, would even look twice at someone like her. Maybe he has a thing for disgraced, overworked caterers. But his gentle concern, delivered in that velvety chocolate voice, can't be real and Cat knows better than to mix business with pleasure.
Raw desire and genuine affection unexpectedly tip them into forbidden territory—love. Until Catherine gets a stark reminder that the Montgomerys never do anything without an ulterior motive.
Which means Catherine's luck in love is about to run out…
PREORDER for 5/11
SIMPLY SENSUAL
Do the job. Take the money and run. Until, in a flash, love changes everything.
In retrospect, Ben Callahan should have known this job was trouble.
Way more than his normal P.I. fee and unlimited expenses, just to watch over one woman and report back? Alarm bells should have sent him running back to New York. But with his Mom needing assisted living care, Ben takes Emma Montgomery's tempting offer to watch over her granddaughter.
Then he meets Grace, a golden-haired princess. Gifted, gorgeous, reckless. And a serious threat to his sanity as well as his libido.
Determined to prove she can support herself with her camera, Grace Montgomery hasn't touched her trust fund in months. It's a struggle, but she's free—free of stifling small-town society, free to do what she wants. And right now, she wants to explore her long-repressed sexuality with her hot new neighbor.
As Grace sheds her inhibitions faster than a high-speed shutter, Ben finds himself breaking his own rules for a woman full of unexpected secrets and thousand-watt sensuality. But when Grace discovers who's signing Ben's paycheck, her heart could be too broken for his love to repair.
PREORDER FOR 6/15
SIMPLY SEXY
It all started with a not-so-innocent sprig of mistletoe…
In retrospect, Rina Lowell should have known that Emma Montgomery's mistletoe was a matchmaking ploy.
Rina is new to Ashford, to her newspaper job, to her whole life. And she can't wait to write "Hot Stuff", a series of columns that will definitively pin down what men really want.
When Emma maneuvers her under that pesky sprig of evergreen with Ashford's prodigal son, Rina can't resist the chance to plant one on that dark-haired, blue-eyed man's sensual mouth. She never expected that kiss to go down like a shot of fine tequila. The man is perfect for her, or so she thinks.
When his adoptive father Joe falls ill, globetrotting news reporter Colin Lyons doesn't hesitate to drop everything to fly home and take over Joe's baby, the Ashford Times. Which, Colin discovers, is veering away from hard news to sexy, smutty fluff. Something he can't let happen.
He's only got until New Year's to save this sinking ship, and to do that, he needs an ally. Rina, with her sparkling brown eyes and frumpy clothes that make his fingers itch to discover what's underneath, is the perfect target to help him. Even if it means the job she loves will be cut in the end.
He never expected one kiss to take his simple plan to save the Times and tie it into impossible knots… and possibly cost him the woman he loves.
PREORDER FOR 6/15