A Dare With Consequences by Wendy S. Marcus Author Page
http://amzn.to/1SKi7rP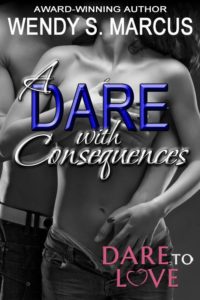 One night on the Island of Eden changes two lives forever.
Ren Monighan is living the dream, running his very successful business from a condo overlooking beautiful Miami Beach – not that he's around much to enjoy the view. He spends so much time traveling between professional and college football teams, filming practices and creating virtual reality play simulations, he has none left over to look for love. But passing a few hours naked with a pretty bartender named, Anya, fits into his schedule just fine.
Anya Solokov has been working hard to make a better life for herself in New York. She's moved past her days of scrounging for food and doing things she isn't proud of to survive. An MBA from NYU will guarantee her independence and ensure she never has to scrimp and save or go hungry again. When an unplanned pregnancy puts Anya's lifelong goal in jeopardy, Ren's ready to step up. But headstrong Anya won't accept his help unless he comes up with a plan that works for both of them.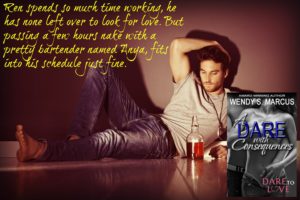 Meet Wendy S Marcus
Wendy S. Marcus is an award-winning author of contemporary romance. A nurse by trade, Wendy holds a Master of Science in Health Care Administration, a degree that does her absolutely no good as she now spends her days, nights, and weekends mucking around in her characters' lives creating conflict, emotion, and, of course, a happily ever after. Wendy lives in the beautiful Hudson Valley region of New York. When she's not writing, she enjoys spending time with her family, which includes her dog Buddy, and blogging/e-mailing/tweeting/facebooking with her online friends. To learn more about Wendy and her books visit her website: http://www.WendySMarcus.com.
E-mail: Wendy@WendySMarcus.com