Yep, a week from yesterday I'm leaving for another conference. Author's After Dark, Charlotte, North Carolina. It's a conference that's all about READERS and I'm really looking forward to it. In preparation I have packed up books and swag. 5  boxes worth!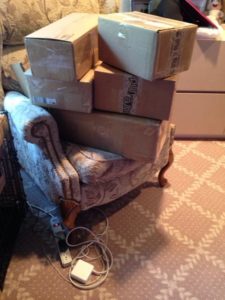 I can't even believe that I have so many things to ship. Or sort when I get there. I will be overwhelmed. Readers on the other hand, will have a blast. I hope!
The winner of the JESSICA SCOTT BOOKS are:
1. # 31 – KateI
2. # 14 – Gale S.
3. # 12 – Buttonsmom2003
CONGRATULATIONS EVERYONE!
Email me at carlyphillipsbooks – gmail – and send your full name and mailing address to claim your prize.
HAPPY WEDNESDAY!