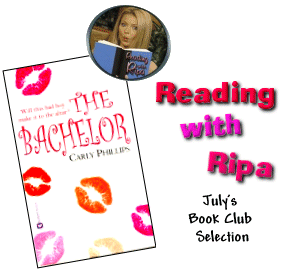 GIVEAWAY IS OVER!
THE WINNER IS #28 – KARA!
Congratulations!
Kara email me at: (no spaces) – carly phillips books @ gmail . com and confirm your email and how you read eBooks, what app. I'll send you a copy of THE BACHELOR and Audrey's book 1 Calendar Girl January!
Giveaway at the end!
As I watched the TODAY SHOW this morning, waiting for the segment on Audrey Carlan, of Calendar Girl fame, to come on, I had a flashback. And I was startled to realize 18 years had passed since THE BACHELOR was chosen by Kelly Ripa as the first Romance on a Nationally Televised Bookclub. Different era. Different time. But I do remember waiting and thinking … despite what I've been told, she's going to pull the cover off that book on the pedestal, surrounded by smoke, and it's going to be someone else's novel. That's how surreal the moment was. And then I had to do a LIVE TV show months later. And I know from talking to her, that Audrey is experience that same surrealness now.  HOW IS THIS HAPPENING? And is it really happening to ME?
First, Audrey was composed and beautiful this morning, the segment tasteful and did Romance proud. So GO AUDREY!
Second, I'd like to wish Audrey a few things:
I wish Audrey the kind of friends that I have, the understanding, noncompetitive, not jealous, supportive, loving group of women who are still by my side today. If you stay the lovely down to earth person you seem to be, this seems like a no-brainer.
I wish Audrey the wisdom to enjoy this moment and understand it can't be repeated – unless you follow the path of E.L. James (and I hope you do) and it goes on and on and on … know that life is full of ups and downs, especially the writing life. And it's no reflection on you if and when that downward turn comes. Especially since life is cyclical and there will be ups again. They just may not be as high.
I wish for Audrey to learn this lesson early on – do not spend the rest of your writing career spinning on a hamster wheel trying to recreate the success. It's lightning in a bottle. If it continues, brilliant. If it doesn't, keep writing, keep believing, and all will be well. 
I know you can't imagine why I'm saying these things. Three years down the road, you will understand. And be grateful for the time, the moment, and the people who stuck by you through it.
Want to win KINDLE eBook copy of CALENDAR GIRL and THE BACHELOR? Comment below. Did you see the TODAY SHOW with Audrey? Do you remember seeing me on LIVE? Tell me all about it!
xo
Carly