Dear Reader,
It's amazing how fast this year has gone by. I can't believe it's almost the holidays and then the New Year. It's been crazy and mistakes happen… which is why I want to apologize for the 28 Free Books link in the newsletter that had expired. There was a misunderstanding and I was under the impression the last day was Saturday when it was really Friday. So my apologies!
Good news! I finished writing TAKE ME AGAIN and it is a sexy, hot, emotional story of two people absolutely meant to be together, they just don't know it. Once the holidays end and the first of the year rolls around, I'm going to be doing a lot of fun promotion and giveaways leading up to the Jan 22nd release, so stay tuned. You'll also want to join CARLY'S ADDICTS if you're interested in exclusive excerpts and giveaways.
Today 1,001 Dark Nights announced their 2019 lineup and I am THRILLED to be a part of it. TAKE THE BRIDE is a Knight Brothers novella (Sebastian's sister, Sierra) and OMG this story … THE HERO OBJECTS AT HER WEDDING TO ANOTHER MAN! I can not wait to dig into this story. *Only available on Amazon for the first 90 days, then available on other retailers.*
In the meantime, there's a TAKE ME AGAIN teaser and preorder info for both TAKE ME AGAIN and TAKE THE BRIDE for you below!
All the best,
Xo Carly
---
Take Me Again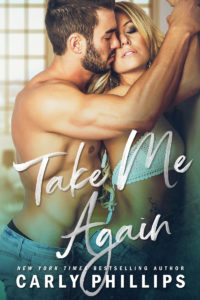 He's alpha, he's sexy, and he's sure he's got life in his hands … Until Ashley Easton returns, wanting nothing to do with the playboy who broke her heart.
Sebastian Knight is a closer. Be it a business deal or the woman of his choice, everything he wants is his for the taking. Sexy and irresistible, a wink, a smile, or a handshake always seals the deal. Until Ashley returns at the worst possible time, and everything unravels around him.
The Ashley who returns is sassy and sexy–everything Sebastian craves and he wants a second chance. Despite her reluctance, his sex appeal makes it harder and harder to keep him at arm's length.
Sebastian might have a talent for sealing the deal, but Ashley is no longer easily charmed. This time he's going to have to work to win.
Preorder Now:
Amazon: https://amzn.to/2QnsVjZ
Nook: http://smarturl.it/AgainNook
Amazon Print: https://amzn.to/2rdwKtE
Apple: http://smarturl.it/AgainiBooks
Kobo: http://smarturl.it/AgainKobo
Google Play: http://smarturl.it/AgainGooglePlay
---
"This is ridiculous. You, me, this cold war we've got going on." He extended a hand in peace. "What do you say?" He braced himself, ready for the slide of her hand against his skin.
But she ignored the gesture, her eyes frosty and despite her rebuffing him, he found something sexy about the cool blue stare.
"There's no cold war, Sebastian. I just have nothing to say to you." She drew back her shoulders, the dress pulling tighter over her breasts.
"Are you really holding a grudge over something we both played a role in?" He didn't add that she'd initiated the encounter, that she'd come on to him. He didn't think she'd appreciate the reminder.
A slow smile spread across her glossed lips. "You think that's why I have no desire to engage in small talk? Or have any kind of relationship? No. That's not it." She shook her head. "I can take responsibility for my role in what happened between us. I'm well aware I started things."
"Then – "
She stepped closer, her scent pervading his senses, going right to his dick.
"I was there, Sebastian. I heard what you said to your father in his study. You were the one thing that stood between me being completely cut off from the world I knew. You were eighteen and you didn't step up and say, hey I'll behave. Keep Ashley home. So if you're wondering why I have no use for you, now you know."
He blinked in surprise, her words coming out like a verbal slap. Jesus. All these years, and he'd had no idea she'd been outside that room. Shame filled him as it always did when he remembered that time. In the moment, he hadn't believed his dad would ship Ashley abroad. And when he'd realized his father had been serious about boarding school, he'd gone to the man's study, to ask him to change his mind. "Too late, son. Money paid. Nonrefundable. It's a done deal."
"I was young and I fucked up," Sebastian admitted out loud to her, wanting her to know he understood.
She narrowed her gaze. "You sure did. And now I'd appreciate it if you left me alone."
---
Take the Bride
From New York Times and USA Today bestselling author Carly Phillips comes a new story in her Knight Brothers series…
She used to be his. Now she's about to marry another man.
Will he let her go … or will he stand up and take the bride?
Ryder Hammond and Sierra Knight were high school sweethearts. Despite him being her brother's best friend, their relationship burned hot and fast…and ended with heartbreak and regrets.
Years later, she's at the altar, about to marry another man.
He's only there for closure, to finally put the past behind him.
But when the preacher asks if anyone has a reason the couple shouldn't wed, she turns around and her gaze locks on his.
Suddenly he's out of his seat.
Objecting.
Claiming.
And ultimately stealing the very pissed off bride and taking her to a secluded cabin.
He wants one week to convince her they're meant to be, to remind her of the fiery passion still burning between them.
When their time together is up, will she walk away and break his heart this time, or will he finally have the woman he's wanted all along?
**Every 1001 Dark Nights novella is a standalone story. For new readers, it's an introduction to an author's world. And for fans, it's a bonus book in the author's series. We hope you'll enjoy each one as much as we do.**
Amazon: https://amzn.to/2A7HK0n