Because you need something fun to read in between DARE books I decided to remind you of some older novellas that you might have missed – by releasing them in a boxed set. Print and eBook will be available!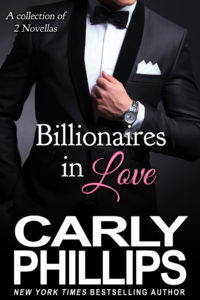 Billionaires in Love
Boxed Set – October 13, 2014
Two classic Carly Phillips stories about love, loss and second chances …
The Playboy's Second Chance
This story was formerly titled Kismet. Since I the title was confusing to readers, I changed the name and now bring you The Playboy's Second Chance. I hope you enjoy my sexy, stand-alone novella.
Trevor Dane, Wall Street Hot Shot and billionaire, has everything — money, power and any woman he could possibly want yet he isn't happy. When his latest interviewer turns out to be the one woman he's never forgotten, Trevor sees a second chance and he won't let Lissa Gardelli's wariness or old hurts  stop him from getting back into her bed … and her heart.
Midnight Angel
Hollywood superstar, Dylan North, revisits his home town with the express intent of seeing his first love once more, to see if they can reignite the love he stupidly threw away ten years before. The l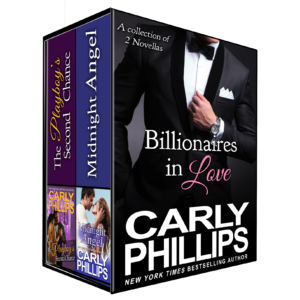 ast thing Dr. Holly Evans needs in her life is her high school sweetheart returning and stirring up old feelings. But Dylan is determined to convince Holly that happily ever doesn't only happen in the movies.
Inquiring minds want to know …
WILL YOU BE INTERESTED IN BUYING?