MERRY CHRISTMAS!
So you have an e-Reader and you want a sexy start to 2016.
PRE-ORDER DIRTY SEXY SAINT available on Jan. 19th & enter to win a $250 Amazon GC (2 winners)! Excerpt/Teaser below!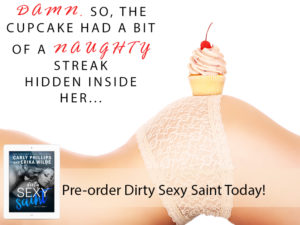 PREORDER your copy of DIRTY SEXY SAINT
If you've already pre-ordered, enter giveaway now!
*2 WINNERS will each receive a $250.00 Amazon GC!
FB IS NOT ASSOCIATED WITH THIS GIVEAWAY.
No Purchase Necessary to win.
"Who's the cupcake at the end of the bar?" Clay asked Tara, the bartender, in a low tone of voice.
"I have no idea," she replied with a shrug as she poured half an ounce of Kahlua into a shot glass. "I've never seen her here before."
Leaning a hip against the low counter, Clay let his gaze stray back to the gorgeous blonde at the other end of the bar, who clearly was on the wrong side of town. "Did she arrive with anyone?" he asked curiously.
Tara added an equal amount of Bailey's to the shot glass. "Nope. She came in alone."
"Is she lost?" It was the only thing that made sense to him.
"I don't think so." Tara's mouth quirked with a grin as she topped the drink off with a generous amount of whip cream. "She slid onto that bar stool, told me she wanted the dirtiest named drink on the menu, so I served her a royal fuck. She downed the shot in one gulp, and ordered two more, then told me to keep them coming, the stronger and the dirtier, the better. After three royal fucks, she's gone through a screaming orgasm, a slow, comfortable screw, and a blow job. She's following that up with a deep throat," she said, lifting the sexually explicit drink she'd just made.
Clay couldn't help the amused laughter that escaped him. Damn. So, the cupcake had a bit of a naughty streak hidden inside her. @Karen Drogin/Carly Phillips & Janelle Denison/Erika Wilde
New York Times bestselling authors Carly Phillips and Erika Wilde bring you a dirty, sexy, smoking hot SERIES featuring three bad boy brothers bonded by shocking secrets and their damaged past. Sinful, addicting, and unapologetically alpha, these men are every woman's erotic daydream … And your ultimate dirty fantasy.
Are you ready to get Dirty Sexy with a Saint?
DIRTY SEXY SAINT – Book 1 (stand alone!)
Clay Kincaid knows he's more a sinner than a saint. Especially when it comes to women. With a rough and damaged past that has left him jaded, he doesn't do committed relationships. But he does like sex—the hotter and harder, the better. He likes it fast and filthy, which is why he refuses to even touch someone as sweet and guileless as Samantha Jamieson. Until he discovers that she likes it just as down and dirty as he does. Let the sinning begin . . .
DIRTY SEXY INKED & DIRTY SEXY CUFFED coming in 2016!
All books in the DIRTY SEXY Series are full-length novels with no cliffhangers!