Meet our January Release titles!
A Daring Desire by J.A. Coffey Click here to buy it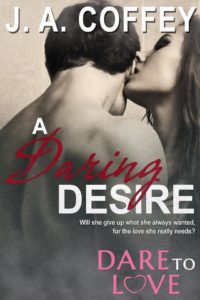 Will she give up what she's always wanted for the love she really needs?
Desperate to rekindle her faded career, former teen superstar Sophie Tucker is tapped for a commercial shoot as a favor to designer Lucy Dare. But mishaps on the set trap Sophie between an ex-lover who ruined her career with a sex tape and a hot pastry chef who lights her fire. While a proposition from rising director Lucas Kellan might be the answer to her prayers, Sophie is torn between chasing her old dreams –or a new future away from her adoring public.
Marx McNeal never dreamed he'd meet his ultimate teenage fantasy, until the accident-prone starlet trashes his food truck and his hopes of winning a baking competition cash prize that would bankroll his bakery storefront. Though their passion might be a headliner, he's certain she'd never give up her dreams of stardom—not even for their daring desire!
J.A. Coffey writes both sizzling contemporary romance and epichistorical fiction with emotionally compelling characters that stay with youlong after you turn the last page.
A complete cupcake addict, when sheisn't writing or reading, she can be found in trying to convert her front lawnto an edible landscape, test baking desserts, or "feathering her nest" withspruced up flea market finds. J.A. is currently working on her latest novel andtrying not to get cupcake batter on her keyboard.
Get free stories and99¢ new releases: http://jacoffey.com/contactconnect/subscribe/
Website: http://jacoffey.com/
Facebook: https://www.facebook.com/ja.coffey.7
Twitter: http://www.twitter.com/authorJACoffey
Goodreads: https://www.goodreads.com/author/show/6981885.J_A_Coffey
Pinterest: https://www.pinterest.com/authorjacoffey/
YouTube: youtube.com/c/JACoffey
Street Team: http://jacoffey.com/review-team/
***
Consumed By the Dare by Casey Hagen Click here to buy it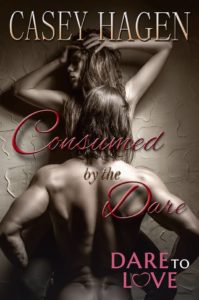 London Abbott, head librarian of the Bronx Public Library, is determined to turn a reading initiative into a raving success, solidifying the career and financial security she craves. Adding the burden of a tag-along playboy trying to improve his tarnished image is a stressor London doesn't need, but when a trusted friend calls in a favor, she's saddled with bad-boy football star Ryker Christiansen.
Ryker never imagined his lucrative contract with the Miami Thunder would ever be at risk, but after too many nights of partying he's told to repair his tattered reputation or be terminated. Sent to New York to preen for the media and show his altruistic side by working with children and seniors, he's committed to sitting in a Bookmobile with antsy kids, ornery seniors, and taking orders from a snotty librarian.
Unsympathetic, London tests Ryker's mettle without mercy. He earns her respect by meeting every challenge she creates, proving he's more than just one more overindulged athlete. But there is one more prize he's determined to win, so he dares London to step out of her carefully constructed world for a walk with him on the wild side.
London expects to bring Ryker down a notch or two, but as their slow-burning heat erupts into sexual flames, the intensity of the fire threatens to either destroy their hearts or forge them together. Discovering which comes with a price. Will they emerge stronger? Or are they destined to be…Consumed by the Dare.
Casey Hagen is a debut contemporary romance author releasing her first book, Falling in Fiji, in October. She writes her stories from the dense, green wilderness of the Delaware National Forest, Middle of Nowhere, Pennsylvania. She's a born and raised Vermont native with Ben & Jerry's in her heart and real Vermont maple syrup pumping through her veins.
Over the years, Casey has dabbled in a wide variety of professions. She worked in the States Attorney's office, created beautiful works of art as a florist, slaved to the public in retail, taught preschool (and potty trained eleven two-year-olds at the same time), and finally, she owned and operated her own residential cleaning business for over a decade. She is also the new Vice President of the Penn Jersey Women Writers Guild.
Casey is the proud mother of three girls, two of which are successful college students…yay! She resides with her youngest daughter, husband, and two cats. Her days are spent in her new office that she proudly admits they would need dynamite to blast her out of! When she's not working she can be found chasing after her youngest with a camera (much to her youngest daughter's embarrassment) or on the golf course with her real life hero!Author Media Links
 Website – www.caseyhagenauthor.com Twitter –https://twitter.com/CaseyHagenAuthFacebook –https://www.facebook.com/CaseyHagenAuthorPinterest –https://www.pinterest.com/caseyhagenauth/Tumblr –https://www.tumblr.com/blog/caseyhagenInstagram –https://instagram.com/caseyhagenauthor/Google+ –https://plus.google.com/u/0/110718249370975627772/posts
***
Sizzling Dare by Taige Crenshaw Click here to buy it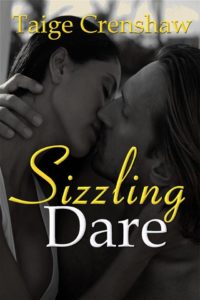 When circumstances forces adversaries together in a common goal they're powerless against the sizzle…
Tiana Malik thrives on being in control and doesn't do anything that she doesn't want to. Yet, she finds herself having to give up some of her control to help out her brother. She needs to intervene or her brother's career as a defensive back for the Miami Thunder will be over. Swallowing her pride she faces the one man that she vowed never to ask for anything. Jameson irks her beyond all reason, but he is her brother's best friend—her last hope to get through to her stubborn twin. For her brother, she will do anything even face Jameson and ask for his help even if it galls her to do so. The man aggravates her and attracts her all at once. She refuses to give into her baser instincts. She is in control….maybe.
Jameson Williams can't believe the ice queen is asking him for help. Since he planned to step in to help his best friend any way, he doesn't mind saying yes. Usually he avoids the tightly wound woman who makes him want to shake her out of her controlled exterior. Although she is aggravating, he can't help but grudgingly respect her for her unwavering loyalty to her brother. He'll work with her so they can save her brother's career before it's too late. Although she is under his skin he won't give in…maybe.
They have forced to work together to help a man they both care about. But a passion neither expects awakens….going from a flicker to a sizzle that they are powerless against. Will they dare to give in?
Taige Crenshaw has been enthralled with the written word from time she picked up her first book. It wasn't long before she started to make up her own tales of romance.
With interracial and multicultural novels set in today, in alternate dimensions, or in the future she writes with adventure, fun sassy heroine's, and sexy hero's.
Always hard at work creating new and exciting places Taige can be found curled up with a hot novel with exciting characters when she is not creating her own. Join her in the fun, frolic, interesting people and far reaches of the world in her novels.
Website: http://taigecrenshaw.com
Blog: http://taigecrenshaw.com/blog
Facebook Page: https://www.facebook.com/pages/Taige-Crenshaw/110652119026620
Facebook Profile: https://www.facebook.com/taige.crenshaw
Twitter: https://twitter.com/TaigeCrenshaw
Facebook Chat Group: https://www.facebook.com/groups/CrenshawCafe/
Street Team: https://www.facebook.com/groups/CrenshawCafe/
***
London With A Dare by Jennifer Conner and Angela Ford Click here to buy it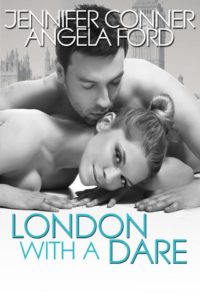 Chapple Palmer is the captain of one of the top soccer teams in the world, the London Lions. He should get more respect, but due to bad press he has a bad boy reputation in the British tabloids that he can't seem to shake. In fact, he's even beginning to believe the things they say about him. Chapple knows his playing days are numbered and the last thing he needs is to be stuck babysitting an American billionaire, Ian Dare and his wife, who are there to promote Dare's American football team's exhibition game in London.
Elisha Sheppard is fairly new at being the Dare's scheduling assistant. She knows how important it is to stay professional and detail oriented at every moment. So why is Elisha letting herself be distracted by Chapple Palmer who she can guess is nothing but trouble, not to mention a heart-breaker? Why is she finding it so easy to say yes to his every invitation when her brain is screaming no?
After a disastrous sexual encounter with Elisha, Chapple realizes that he's proved the truth in all the tabloid rumors. Why would Elisha even talk to him? How can he make it up to her? Chapple feels a connection with Elisha he hasn't felt with a woman in a long time. If she'll give him another chance, he'll prove to her that he's the lover she's only dreamed of. But can he also trust her with his heart?
Jennifer Conner is a best-selling Northwest author who has over eighty short, novella and full-length books in ebook, print, and audiobooks. She writes in Christmas Romance, Contemporary Romance, Paranormal Romance, Historical Romance, and Erotica.
She has hit Amazon's top fifty authors ranking and her books have been #1 in sales.
Her novel Shot in the Dark was a finalist in the Emerald City Opener, Cleveland, and Toronto RWA contests.
She lives in a hundred year old house that she grew up in. Her semi-small town holds an interesting mix of resident hillbillies, yuppies and Navy Seals. And of course Seattle, only a few miles away, is the birthplace of Starbucks so coffee is always on the check list. She blows glass beads with a blow torch, (which relieves a lot of stress and people don't bother you) and is a huge fan of musicals.
Angela Ford
Bestselling Romantic Suspense & Contemporary Romance / Top 50 Authors on Amazon Kindle
Angela Ford originates from Nova Scotia…Canada's Ocean Playground!
Her love of the ocean and sunsets are always in her heart and give her inspiration. Her love for words keeps her turning the page. She is never without a book, whether she's reading or writing. Now residing in Ontario, Angela works in Finance – numbers by day – words by night. Her dedication to volunteer and involvement with cyber safety seminars gave her an Award of Distinction and sparked the idea for her first book Closure – Best Selling Action/Adventure/Crime/Suspense. Ms. Ford continued her FBI series with Forbidden and Obsessed. In between mysteries, Ms. Ford writes short contemporary romance…sometimes with a dash of suspense!
Being a mom, her home is always filled with young adults and rather interesting stories; but it is the furry family members who rule the house – a Puggle, a Chug puppy and two loveable cats. Every possible quiet moment she finds, she treasures and just writes about the moments to come. Angela is an avid reader of romance, a member of the RWA, KOD (Kiss of Death – Suspense Chapter) and Mississauga Writers Group. Visit her website Romantic Escapes at
http://www.angelafordauthor.com
 to connect with her on social media. She loves to hear from her readers – they keep her smiling!
***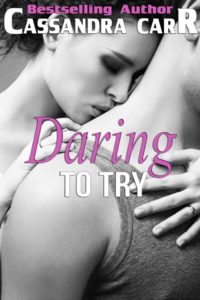 Wide receiver Taylor Wilkinson's worst nightmare has come true. As a member of the Miami Thunder professional football team, Taylor has always prided himself on staying in shape and playing smart. What he didn't count on was a three hundred twenty pound defensive lineman tackling him and using his body to cushion his own fall to the turf. Over the roar of the crowd on Thanksgiving Day, Taylor heard the pop in his shoulder and knew things would never be the same.
Fresh out of surgery to repair the double break in his collarbone, his season is over. After ten years in the league, Taylor fears his career might be too – not many players last into their thirties in professional football. Pinning his hopes on Sherryl Stoddard, the best sports psychologist in Miami, he's ready to do whatever it takes to get over his fears and back onto the field. Now, if only he could stop thinking about Sherryl's curves…
Cassandra Carr
is a multi-award winning writer. When not writing she enjoys rooting for her beloved hockey team – the Buffalo Sabres, taking her daughter on grand adventures, and binge watching TV shows. Cassandra's books have won numerous "Best Book Of" awards and her novella Power Shift (former title Unexpected Top) was nominated in the E-book Erotic Romance category of RT's Reviewers' Choice Awards.
She thinks the best part of being a writer is penning stories in her made-up worlds while most others struggle with commutes, micro-managing bosses and cranky co-workers.
Website http://www.booksbycassandracarr.com
Facebook http://www.facebook.com/AuthorCassandraCarr
Twitter http://www.twitter.com/Cassandra_Carr
Email AuthorCassandraCarr AT gmail.com
***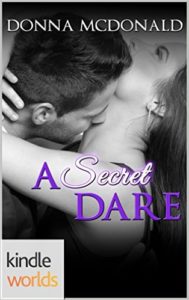 Their love was no secret, but did he dare tell her the rest of the truth?
Aurora Snow has a secret—one she inherited from her dying mother. Now she has to decide what to do about it, which is especially hard when she doesn't believe it can be true. For over forty years, she's never cared about what her mother was hiding about the past. Why should learning about her father change anything now? She's happy with herself, her art, and the new man in her life. Jeremiah is everything she ever dreamed of finding in a man. Isn't the perfect lover really all a woman needs to be happy?
Jeremiah Cranston has secrets. The biggest is that he's fallen crazily in love with the target of his investigation. His boss is already upset that he's sleeping with her. Jeremiah's more upset that he's having to lie to Aurora about his purpose in her life. Finding out she's a Dare would be the worst thing possible for both of them, even if it is his job to do just that. When all his secrets are revealed to Aurora, it's going to be hard as hell for him to protect a woman who hates him.
Donna McDonald
After 35 years of doing everything for a living except writing books, I finally published my first romance novel in March of 2011. Thirty novels later, I am living my own "happily ever after" life as a full time romance author. I give back to the universe by hanging out to write at local coffee shops and keeping them in business. Addicted to making readers laugh, I include a good dose of humor in every book.
NOTE FROM AUTHOR: Thank you for visiting my Amazon Author page and for choosing to buy my books. I love to hear from readers and will try my best to answer back. You are truly the reason I write. Happy Reading!
You can write to me at email@donnamcdonaldauthor.com.
Visit me at www.donnamcdonaldauthor.com.