A Daring Desire by J.A. Coffey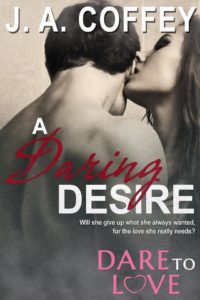 Will she give up what she's always wanted for the love she really needs?
Desperate to rekindle her faded career, former teen superstar Sophie Tucker is tapped for a commercial shoot as a favor to designer Lucy Dare. But mishaps on the set trap Sophie between an ex-lover who ruined her career with a sex tape and a hot pastry chef who lights her fire. While a proposition from rising director Lucas Kellan might be the answer to her prayers, Sophie is torn between chasing her old dreams –or a new future away from her adoring public.
Marx McNeal never dreamed he'd meet his ultimate teenage fantasy, until the accident-prone starlet trashes his food truck and his hopes of winning a baking competition cash prize that would bankroll his bakery storefront. Though their passion might be a headliner, he's certain she'd never give up her dreams of stardom—not even for their daring desire!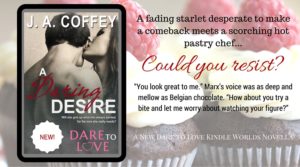 J.A. Coffey writes both sizzling contemporary romance and epichistorical fiction with emotionally compelling characters that stay with youlong after you turn the last page.
A complete cupcake addict, when sheisn't writing or reading, she can be found in trying to convert her front lawnto an edible landscape, test baking desserts, or "feathering her nest" withspruced up flea market finds. J.A. is currently working on her latest novel andtrying not to get cupcake batter on her keyboard.
Get free stories and99¢ new releases: http://jacoffey.com/contactconnect/subscribe/
Website: http://jacoffey.com/
Facebook: https://www.facebook.com/ja.coffey.7
Twitter: http://www.twitter.com/authorJACoffey
Goodreads: https://www.goodreads.com/author/show/6981885.J_A_Coffey
Pinterest: https://www.pinterest.com/authorjacoffey/
YouTube: youtube.com/c/JACoffey
Street Team: http://jacoffey.com/review-team/