Icy Dare – Aliyah Burke 
Buy it now on Amazon US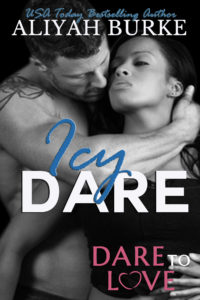 Sometimes the most passionate heat resides behind walls of ice…
Dorian West puts down the bottle when a request comes in from a man he respects more than anything to help find a woman running scared. Agreeing, he discovers, she is one he could spend a lifetime getting to know and still not unearth all her secrets. Hard to when she hides behind an icy demeanor. He does have one way to get her to thaw out…
Sakharre Myers is on the run. Her brother plays on defense for the Miami Thunder and she is tired of being used to get closer to him. After one relationship turns dangerous, she hightails it out of Miami. Despite her mistrust and attempts to get away from the man named Dorian there isn't any way to ignore the sizzling passion between herself and this man sent after her.
Stress and fear can accelerate a relationship and then the question becomes, will it last once everything settles down? Will they have a chance together or will Sakharre once more retreat behind her walls of ice?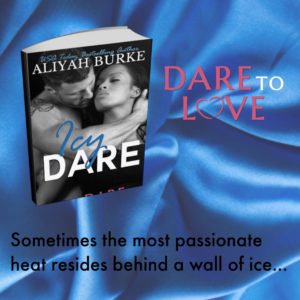 Aliyah Burke is an avid reader and is never far from pen and paper (or the computer). She loves to hear from her readers and can be reached at http://aliyah-burke.com/blog/contact/
She is married to a career military man, they have three Borzoi, and a DSH cat. Her days are spent sharing her time between work, writing, and dog training/showing.
His Daring Moves by Rhian Cahill
Buy it now on Amazon US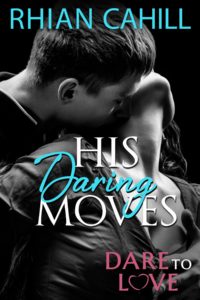 He's got daring moves on — and off — the field.As receiver for the Miami Thunder, Grady Murdock couldn't be more satisfied with his professional life. Next up—his personal one. He's a player on the field, not off, so when he claps eyes on Melinda at a Thunder event, he's neither surprised nor alarmed to find she triggers both lustful and long-term thoughts. Six years his senior, Mel isn't so easily convinced.Independent, career-minded Melinda Shaw has singlehandedly built one of Miami's premier event-management companies, but success hasn't stopped her heart from shifting its focus to marriage and children. Still, she's not about to burden a younger man with her fantasies of familial grandeur…until she does.One night plus TWO forms of protection divided by Grady's super-sperm equals the completely expected.Their combustible sexual chemistry notwithstanding, Grady still has to work overtime to convince Mel he wants her despite their impending parenthood, not because of it. It'll take almost losing everything—and more than a few of Grady's famous daring moves—to score Mel's heart once and for all.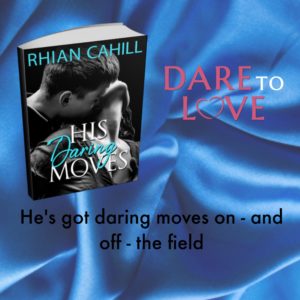 Years of slavery to four young aliens and their sire failed to squash the love of writing or reading hiding behind the facade of a boring stay-at-home mum. Escaping from the mother-ship with vivid imagination intact, Rhian uses her superpowers for good.
Okay, so that's not quite how it happened. Married to her very own hero for over 20 years and raising a family of four kept writing on the back burner but with more time to spend on the things she loves most, Mr. Muse and Rhian have taken over.
Writing a multiple of genres keeps life interesting and busy. Rhian can be found in numerous places online where her love of talking is well satisfied. An Aussie, who's spent years living overseas, Rhian and family are now happily residing back in their native land of down under.
Find more on Rhian on her website – www.rhiancahill.com.
Like Rhian's Facebook page – https://www.facebook.com/RhianCahillAuthor
Follow Rhian on Twitter – @RhianCahill
You can download Rhian's free app from the iTunes or Google Play stores.URL's – Website – http://www.rhiancahill.com/  
Instagram –http://instagram.com/rhiancahill/
Tsu – https://www.tsu.co/rhiancahill 
Newsletter signup – http://eepurl.com/byrsf
Amazon author page –http://tinyurl.com/knf4do7
Goodreads page –https://www.goodreads.com/rhian_cahill
Commit If you Dare – Lacey Wolfe 
Buy it now on Amazon US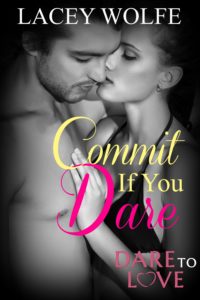 It's summer vacation and it's going to be a memorable one for Jacklynn Holmes. She's just gotten out of a bad relationship, and all she wants is a hot, sexy fling or two.
Sports reporter to the Miami Thunders, Emmett Woods has sworn to never again spend the night with a woman, but Jacklynn has him questioning if he should throw that motto out the window.
Both Jacklynn and Emmett aren't looking for a relationship, but after one steamy night between the sheets, they can't seem to get enough of one another. They aren't the only ones pining away for each other however, as a flirty neighbor and cheating ex-boyfriend butt their noses into the relationship Jacklynn and Emmett are trying to pretend doesn't exist.
Lacey Wolfe has always had a passion for words, whether it's getting lost in a book or writing her own. Her goal as an author is to have a romance for everyone, whether it's sweet, sensual, or spicy. She's had several books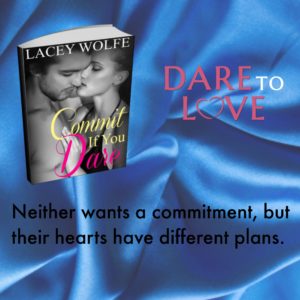 on the Amazon best seller lists. When she isn't writing, she can be found running, talking to her pets, spending time with her family, or lost in some sort of craft. Oh, and she takes kindly to anyone who feeds her cookies.

Lacey lives in Georgia with her husband, son and daughter, their herd of cats and one black lab who rules the house.
Website: www.laceywolfe.com
Facebook Friend: www.facebook.com/WolfeLacey
Facebook Fan Page: https://www.facebook.com/AuthorLaceyWolfe
Twitter: www.twitter.com/LaceyWolfe
Instagram: http://instagram.com/author_lwolfe
Newsletter: http://eepurl.com/hJpWw
Lover's Dare – N Kuhn 
Buy it now on Amazon US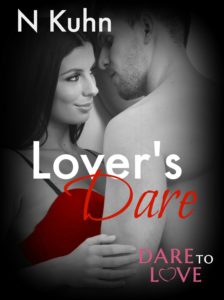 Walking away from the love of her life six years ago, Lauren Jenner has struggled to leave her reputation and old self behind. She works hard at advertising for Schiller Sports. Now she's on her way to Miami for her chance at a promotion. Davis Green has never forgotten the woman who broke his heart, he hasn't stopped loving her either. Getting pummeled on the field playing for the Miami Thunder, he's worked his way through half the city in search of something to fill the hole in his life. Can they get over the past to be together again? Will betrayal and family keep them apart? Find out in Lover's Dare, the new Dare to Love Kindle World Novella from N Kuhn.
 N Kuhn grew up in a small town in Western New York. Having spent her afternoons outside or with a book, she grew up with a love of reading and writing. Her mother and grandmother fully encouraged this in her. She made a promise to her grandmother to fulfill the dream of being an author. Her grandmother lived to see her granddaughter's name in print. This was a turning moment for Ms. Kuhn. Driven by ambition and a promise made, she has since published several titles including the Mohawk Trilogy, The Buffalo Rocker Series, the Tricks series and many more titles.
When she's not writing, she can be found playing with her little girl, blogging, reading or crocheting. Her daughter and coffee are her two staples in life. Her love of mixing reality and fiction often brings highly emotional stories and real life issues together into a sexy, romantic story.
Sign up for N Kuhn's newsletter http://mad.ly/signups/133960/join
Check her out on facebook. http://www.facebook.com/nkuhnauthor
Blog: http://nkuhnebooks.blogspot.com
You can also follow her on twitter @mrsnkuhn
The Celebrity Dare – Kaira Rouda 
Buy it now on Amazon US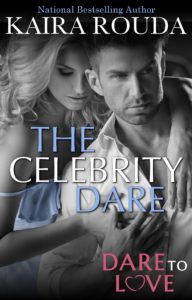 Playboy billionaire and son of a New York City real estate tycoon, Mark Dare is living a great life, living in the city and operating his family's hotels, nightclubs and cruise ships. He loves his job, and his carefree, no-strings-attached lifestyle. When he agreed to be a celebrity judge/investor on the television show, The Celebrity Dare, he doesn't think about the show as anything other than a unique way to promote the Dare Real Estate Holdings name. By this, the second season, he's a television pro. When a gorgeous, vaguely familiar blonde woman walks on stage, he's instantly mesmerized, ready to buy whatever it is she's selling. Piper Sloan is a woman on a mission to save the US food supply, one product at a time. An attorney who left her lucrative law firm job to start the business of her dreams, her friends think she's crazy, and they just might be right. Funds are running low and in desperation, she applies to be a contestant on The Celebrity Dare, certain charming and hunky billionaire Mark Dare won't remember their one night together, even if it's something she will never forget. She's desperate, willing to do anything to keep her fledgling company afloat. Sometimes chemistry is more powerful than common sense. And the ingredients of love aren't always what they seem.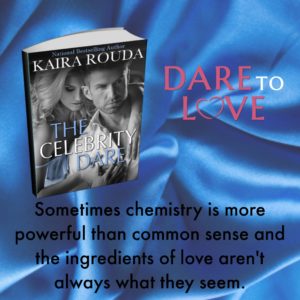 Kaira Rouda is an Amazon #1 bestselling, multiple award-winning author of three women's fiction novels including HERE, HOME, HOPE, ALL THE DIFFERENCE and IN THE MIRROR. Her bestselling short story is titled, A MOTHER'S DAY. Kaira's work has won the Indie Excellence Award, USA Book Awards, the Reader's Choice Awards and honorable mention in the Writer's Digest International Book Awards. Her books have been widely reviewed and featured in leading magazines.
Don't miss her sexy contemporary romance series set on INDIGO ISLAND: WEEKEND WITH THE TYCOON, Book 1; HER FORBIDDEN LOVE, Book 2; THE TROUBLE WITH CHRISTMAS, Book 3; and THE BILLIONAIRE'S BID, Book 4. Each of these novellas can be read as a stand alone, or enjoyed as a series.
Her nonfiction title, REAL YOU INCORPORATED: 8 Essentials for Women Entrepreneurs, continues to inspire women internationally.
She lives in Southern California with her husband and four almost-grown kids, and is at work on her next novel. Connect with her on Twitter, @KairaRouda, and on Facebook at Kaira Rouda Books. For more about Kaira and her books, please visit wwww.KairaRouda.com.
A Kissing Dare – Yvette Hines 
Buy it now on Amazon US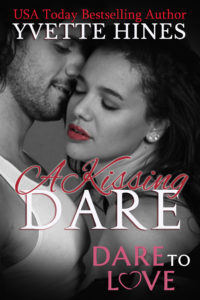 He's used to being the one doing the tackling, but when love is before him will he grab hold or let it slip by him?
Donovan "The Tank" Clay once stood at the top of his game, a great NFL defensive linemen for the Miami Thunder. An injury sidelined him and now he has to fight for what was his. On multiple levels life is starting come at him hard and fast and he feels seconds away from landing flat on his backend. With all the distractions before him, he's blindsided by an unexpected move of a curvaceous beauty. When it comes to relationships he's always kept low, only engaging when necessary, but this woman has a hold on him he can't break away from.
Joel Gifford is a numbers girl, intelligent and a go-getter, but only in her career. Everything else for her has been placed in a miscellaneous column that she will get around to calculating the time investment profitable potential—eventually. One night she allows her older sister to drag her out to a bachelorette bar crawl and everything changes. On a dare she approaches a sexy, new steel, gray-eyed stranger and one plus one soon starts to equal the two of them in ways she'd never conceived possible. However, she doesn't have time to think about a man when her job and a company president start making demands she may not be able to accomplish. Can love be the missing factor to her problem?
 USA Today Bestselling Author, but I'm still simply Yvette Hines, some people call me SASSE or SASSE Yvette. I'm an erotica author that loves pleasurable hours between the sheets. Whether it is a blended tale of interracial lovers, the clandestine bite and wicked passion of a paranormal mates or the sting of a commanding whip against tender flesh. Even better, make my day and toss in two gorgeously, decadent men who only want to pleasure their woman. I write Short and Sexy, Sensual Erotica (SASSE). Occasionally, you may get a full length novel from me. However, life is too busy and most of us have more than one job, family and other activities that don't allow us long hours to read
any more. 
I've been penning erotic tales since 2006, on the hedonistic side of the romance genre. However, I've been writing romance under a different pen for a while. I'm eclectic by nature.
I'm a member of Chesapeake Romance Writers, RWA and a proud RomVet. You can find out more about me at: http://yvettehines.com
Facebook: Yvette Hines (or Author Yvette Hines)
Twitter: @sasseYvetteH
Blog: http://sassesheets.blogspot.com/
Dirty Dare – Sasha White 
Buy it now on Amazon US
Bodyguard Garret Ross likes his quiet life in his quiet building, so when the sexy girl next door hits on him, he passes. After all, this former Navy SEAL knows better than to shoot holes in his own boat, no matter how bold she is in her naughty ways. But then he gets a glimpse of the woman behind the daring facade, and he can't help but be intrigued.
Tasha Howard prides herself on being fearless. Growing up in foster-care she learned quick that she could only depend on herself, and if she wanted something, she had to go after it. So when she moves into her new apartment and gets a good look at her mouthwatering neighbor, she decides it time to go hard, and go home with him.
If only her inner shy girl would quit getting in the way.
New York Times and USA Today Bestselling author Sasha White writes modern erotic fiction with an edge of kink with the occasion foray into paranormal and science-fiction. White has published over thirty s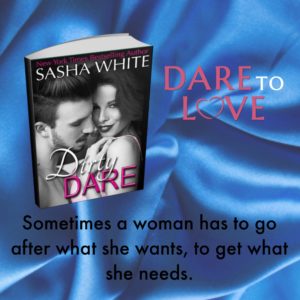 tories with publishers such as Kensington Aphrodisia, Berkley Heat, Avon, Black Lace, and Samhain Publishing, and is recognized as one the top authors of the genre. Pick up one of her stories, and enjoy something White Hot today.
This Canadian author loves to hear from her readers and you can contact her through her website. www.sashawhite.net
Website : http://www.sashawhte.net
Newsletter: http://eepurl.com/fdGJ-/
Amazon Page: http://amzn.to/1LH7ywb
Twitter: https://twitter.com/SashaWhite
Facebook Page: https://www.facebook.com/SashaWhite