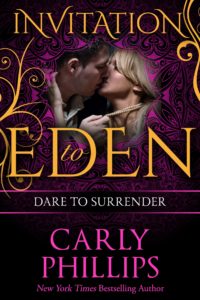 You guys have been so amazingly patient. I can't tell you how much I appreciate it. You celebrate releases, you get excited while we're waiting (and believe me the wait is hard for me too!) … so now I can tell you DARE TO SURRENDER is live EVERYWHERE!
Kindle – http://amzn.to/1kHRscw
Nook – http://bit.ly/DTSNook
Amazon Print – amzn.to/1kjgKc5
BN Print – http://bit.ly/DTSPrintBN
iBooks – http://bit.ly/1o0hk6V
Kobo – http://bit.ly/DTSKobo
ARe – http://bit.ly/DTSARe
DARE TO SURRENDER
After ending a relationship to a cheating, domineering man, Isabelle Masters takes off in her leased Mercedes, only to be arrested for grand theft and hauled to a local police station. To her surprise, she is rescued by the most unlikely person possible, Gabriel Dare, a man she's been attracted to for far too long. Gabe offers Isabelle freedom along with an invitation to Eden, an exclusive island resort where everything and anything is possible.
Although Gabe yearns to possess Isabelle, he knows all too well he must fight his primitive need to bind her to him, and instead help bring out the independent woman she yearns to become – or risk losing her for good.
A woman who needs to run her own life. A man who needs to exert control. Can she surrender to his erotic demands without losing her sense of self once more?
*Part of Invitation to Eden Multi Author Series (stands alone for reading enjoyment)

TWO OTHER INVITATION TO EDEN BOOKS OUT THIS MONTH TOO!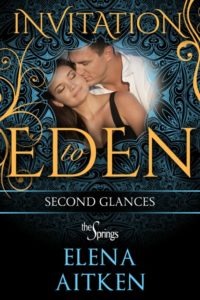 Second Glances by Elena Aitken
Arriving on an exclusive tropical island, Kylie expects to be greeted by the man who broke her heart, the last person she expects is his equally gorgeous, but somehow, much sexier, twin brother. Can she open her body, mind and more importantly—her heart to the idea that sometimes you have to take Second Glances?
BUY LINKS:
Kindle – http://tinyurl.com/m37cp8t
Check www.invitationtoeden.com for buy links to all retailers as they become available.)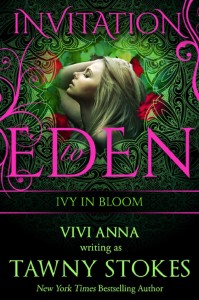 Ivy in Bloom by Vivi Anna writing as Tawny Stokes
After getting out of a bad relationship and dropping out of university, Ivy Watts decides she needs some much needed stress therapy on a beautiful tropical island, but what she gets is a few life lessons from the tall, dark, older handsome man in the penthouse suite.
BUY LINKS:
Kindle – http://amzn.to/1jnEimh
iTunes – https://itunes.apple.com/us/book/id897756487
Kobo – http://store.kobobooks.com/en-CA/ebook/ivy-in-bloom-hothouse-2-invitation-to-eden
Check www.invitationtoeden.com for buy links to all retailers as they become available.