Dirty Dare – Sasha White 
Buy it now on Amazon US
Bodyguard Garret Ross likes his quiet life in his quiet building, so when the sexy girl next door hits on him, he passes. After all, this former Navy SEAL knows better than to shoot holes in his own boat, no matter how bold she is in her naughty ways. But then he gets a glimpse of the woman behind the daring facade, and he can't help but be intrigued.
Tasha Howard prides herself on being fearless. Growing up in foster-care she learned quick that she could only depend on herself, and if she wanted something, she had to go after it. So when she moves into her new apartment and gets a good look at her mouthwatering neighbor, she decides it time to go hard, and go home with him.
If only her inner shy girl would quit getting in the way.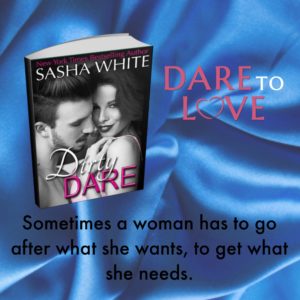 New York Times and USA Today Bestselling author Sasha White writes modern erotic fiction with an edge of kink with the occasion foray into paranormal and science-fiction. White has published over thirty stories with publishers such as Kensington Aphrodisia, Berkley Heat, Avon, Black Lace, and Samhain Publishing, and is recognized as one the top authors of the genre. Pick up one of her stories, and enjoy something White Hot today.
This Canadian author loves to hear from her readers and you can contact her through her website. www.sashawhite.net
Website : http://www.sashawhte.net
Newsletter: http://eepurl.com/fdGJ-/
Amazon Page: http://amzn.to/1LH7ywb
Twitter: https://twitter.com/SashaWhite
Facebook Page: https://www.facebook.com/SashaWhite