A Kissing Dare – Yvette Hines 
Buy it now on Amazon US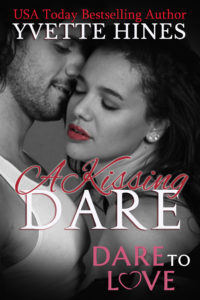 He's used to being the one doing the tackling, but when love is before him will he grab hold or let it slip by him?
Donovan "The Tank" Clay once stood at the top of his game, a great NFL defensive linemen for the Miami Thunder. An injury sidelined him and now he has to fight for what was his. On multiple levels life is starting come at him hard and fast and he feels seconds away from landing flat on his backend. With all the distractions before him, he's blindsided by an unexpected move of a curvaceous beauty. When it comes to relationships he's always kept low, only engaging when necessary, but this woman has a hold on him he can't break away from.
Joel Gifford is a numbers girl, intelligent and a go-getter, but only in her career. Everything else for her has been placed in a miscellaneous column that she will get around to calculating the time investment profitable potential—eventually. One night she allows her older sister to drag her out to a bachelorette bar crawl and everything changes. On a dare she approaches a sexy, new steel, gray-eyed stranger and one plus one soon starts to equal the two of them in ways she'd never conceived possible. However, she doesn't have time to think about a man when her job and a company president start making demands she may not be able to accomplish. Can love be the missing factor to her problem?
 USA Today Bestselling Author, but I'm still simply Yvette Hines, some people call me SASSE or SASSE Yvette. I'm an erotica author that loves pleasurable hours between the sheets. Whether it is a blended tale of interracial lovers, the clandestine bite and wicked passion of a paranormal mates or the sting of a commanding whip against tender flesh. Even better, make my day and toss in two gorgeously, decadent men who only want to pleasure their woman. I write Short and Sexy, Sensual Erotica (SASSE). Occasionally, you may get a full length novel from me. However, life is too busy and most of us have more than one job, family and other activities that don't allow us long hours to read any more.
I've been penning erotic tales since 2006, on the hedonistic side of the romance genre. However, I've been writing romance under a different pen for a while. I'm eclectic by nature.
I'm a member of Chesapeake Romance Writers, RWA and a proud RomVet. You can find out more about me at: http://yvettehines.com
Facebook: Yvette Hines (or Author Yvette Hines)
Twitter: @sasseYvetteH
Blog: http://sassesheets.blogspot.com/