The Celebrity Dare – Kaira Rouda 
Buy it now on Amazon US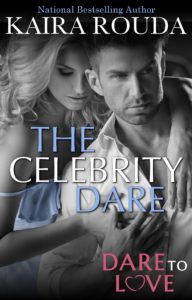 Playboy billionaire and son of a New York City real estate tycoon, Mark Dare is living a great life, living in the city and operating his family's hotels, nightclubs and cruise ships. He loves his job, and his carefree, no-strings-attached lifestyle. When he agreed to be a celebrity judge/investor on the television show, The Celebrity Dare, he doesn't think about the show as anything other than a unique way to promote the Dare Real Estate Holdings name. By this, the second season, he's a television pro. When a gorgeous, vaguely familiar blonde woman walks on stage, he's instantly mesmerized, ready to buy whatever it is she's selling. Piper Sloan is a woman on a mission to save the US food supply, one product at a time. An attorney who left her lucrative law firm job to start the business of her dreams, her friends think she's crazy, and they just might be right. Funds are running low and in desperation, she applies to be a contestant on The Celebrity Dare, certain charming and hunky billionaire Mark Dare won't remember their one night together, even if it's something she will never forget. She's desperate, willing to do anything to keep her fledgling company afloat. Sometimes chemistry is more powerful than common sense. And the ingredients of love aren't always what they seem.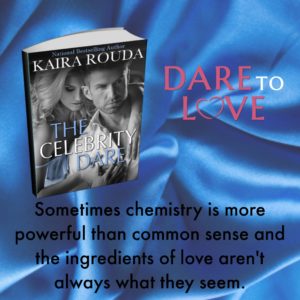 Kaira Rouda is an Amazon #1 bestselling, multiple award-winning author of three women's fiction novels including HERE, HOME, HOPE, ALL THE DIFFERENCE and IN THE MIRROR. Her bestselling short story is titled, A MOTHER'S DAY. Kaira's work has won the Indie Excellence Award, USA Book Awards, the Reader's Choice Awards and honorable mention in the Writer's Digest International Book Awards. Her books have been widely reviewed and featured in leading magazines.
Don't miss her sexy contemporary romance series set on INDIGO ISLAND: WEEKEND WITH THE TYCOON, Book 1; HER FORBIDDEN LOVE, Book 2; THE TROUBLE WITH CHRISTMAS, Book 3; and THE BILLIONAIRE'S BID, Book 4. Each of these novellas can be read as a stand alone, or enjoyed as a series.
Her nonfiction title, REAL YOU INCORPORATED: 8 Essentials for Women Entrepreneurs, continues to inspire women internationally.
She lives in Southern California with her husband and four almost-grown kids, and is at work on her next novel. Connect with her on Twitter, @KairaRouda, and on Facebook at Kaira Rouda Books. For more about Kaira and her books, please visit wwww.KairaRouda.com.