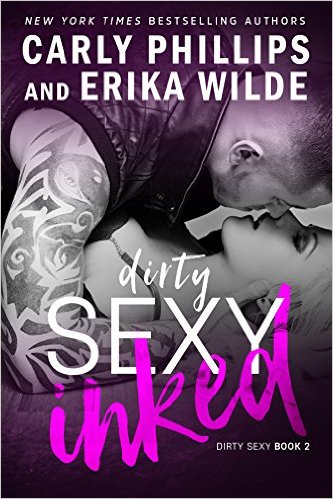 MEET MASON KINCAID!
Breaking hearts is what wild and rebellious Mason Kincaid does best. Hit it and quit it is his motto, and with his bad boy reputation and tattoos, he doesn't lack for female companionship. Until one hot night with the one woman he swore he'd never touch becomes an all consuming addiction he can't kick. Katrina Sands has been his best friend for years, but now that he knows what she feels like, and tastes like, there is no going back to being just friends. Hot, dirty sex has never felt so good…or so right.
BUY LINKS:
Universal Amazon Link (All foreign sites):
BN PRINT COMING SOON
AUDIO COMING SOON
Excerpt from DIRTY SEXY INKED:
Katrina spun around to say something most likely rude and scathing to him, her hair flying around her shoulders, and Mason took advantage and did the only thing he could think of to keep a hold of her so she couldn't escape him, and the discussion they were going to have. Whether she liked it, or… not.
Impulsively, his hand shot out and he grabbed the front of her leather pants. He seized the waistband in his fist and jerked her toward him so abruptly that she stumbled on her heels and inhaled a quick breath. Her hands landed on his chest, which allowed her to regain her balance, but she was quick to try and push away from him. She only managed about a foot of space because his grip was strong and unrelenting, and he didn't intend to let her go.
"What the hell, Mase?" she said, her shock as profound as his own.
As he stared into her wide eyes that were a bit too bright with what he would have sworn was desire, he wasn't sure if her surprise was a result of him asserting a bit of physical control over her, or the fact that he'd tucked four long fingers between the fly of her pants and her lower stomach. Fuck, his knuckles were grazing the softest, silkiest flesh he'd ever had the pleasure of touching.
He grit his teeth. Christ, he literally had his hand down her pants. . .