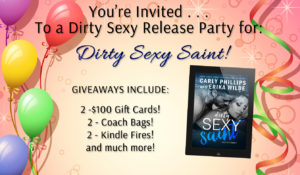 DON'T MISS Carly Phillips & Erika Wilde's DIRTY, SEXY RELEASE PARTY – Week of January 19th.
Help us celebrate the release of DIRTY SEXY SAINT! Come and join the fun at BOTH AUTHOR PAGES, for TWICE the chance of winning ONE EACH of these fabulous giveaways:
$100 Amazon Gift Certificate, Coach bag, Kindle Fire, and more!!!
Join Carly's Fan Page – http://smarturl.it/CarlysCornerFB
Join Erika's Fan Page – https://www.facebook.com/groups/erikawildesfanclub/
*Apologies to those NOT on Facebook. We always try to be fair but this was the only way to reach both audiences. We'll have other giveaways that are everywhere other times.