Don't You Dare by Sidney Halston Grab your copy here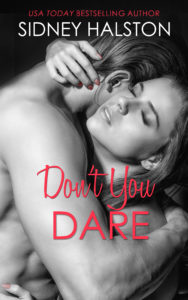 There is no love like your first…
In DON'T YOU DARE, USA Today bestselling author Sidney Halston answers the question can a second chance mend broken hearts and rekindle a passion that was never forgotten?
Star running back, Gunther McCall, once had to make a choice between love and football, and he chose football.
Ten years later his life is out of control and the front office of the Miami Thunder isn't happy.  They've given him one more chance to get his act together, to tone down his temper and partying or he'll be benched—permanently. Gun, in an act of desperation, agrees to sign up for career planning, not knowing exactly what it entails except for the fact that it'll keep him on the field.
 Adalyn Finney has been assigned her first football player with Dare Enterprises' new career-planning program. She's the unofficial "handler" of Gun McCall, who just so happens to be her estranged childhood best friend and first love. It's been over a decade since he broke her heart and disappeared abruptly from her life, but she's sure all the warm feelings she once had for him are long gone. She's determined to show her new bosses she's a risk worth taking, so the first order of business means brining Gun and his outrageous lifestyle in check.
Gun is not looking for love, but the moment he sees Addie, who has never been far from his thoughts, he realizes how much he's missed her and how stupid he was to let her go. His soft and sweet Addie is just what he needs to get his life back on track. The only problem is, Addie isn't so soft and sweet any longer. She doesn't trust him not to mention the fact that she could be fired for fraternizing with one of the players.
But, even she can't deny the chemistry that still lingers between the two ex-lovers and a heated argument turns into a heated night between the sheets. Their constant fighting leads to explosive results in the bedroom, and in the shower, and in the hallway, and…anywhere they can get their hands on each other.
 But can great sex lead to something more when past mistakes still haunt them?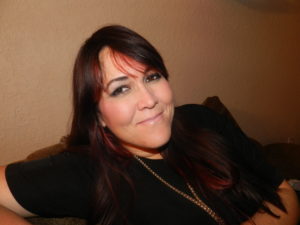 USA Today bestselling author, Sidney Halston lives her life with one simple rule: "Just Do It"–Nike. And that's exactly what she did. 
After working hard as an attorney, Sidney picked up a pen for the first time at thirty years old to begin her dream of writing. Having never written anything other than very exciting legal briefs, she found an outlet for her imaginative, romantic side and wrote Seeing Red. That first pen stroke sealed the deal, and she fell in love with writing. Sidney lives in South Florida with her husband and children. She loves her family above all else, and reading follows a close second. When she's not writing, you can find her reading and reading and reading. She's a reader first and a writer second. When she's not writing or reading, her life is complete and utter chaos, trying to balance family life with work and writing (and reading). But she wouldn't have it any other way.