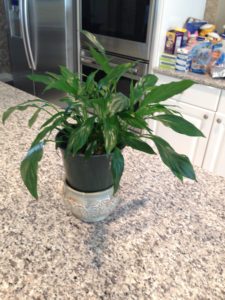 BLOG: I don't have a green thumb.  In fact, I have no real plants in my house except one.  (Will get to that in a sec).  I also can kill plants outside my front door because if they need to be hand watered, there's a chance of bees and sorry.  Not happening.  Phobic.  But when my dad passed away, my plotmonkey pals, Janelle Denison, Julie Leto and Leslie Kelly sent me this plant.  Note, my dad passed a year and a half ago.  Plant is still here.  Also note, plant has outgrown its holder – I had to have it replanted in something bigger because … GASP … it was thriving!  It's survived vacations where I come home and it's wilted and bone dry, it's survived being drowned instead of merely watered.  Clearly … it's a survivor.  I like to think it's because my friends sent it to me at such a sad time.  It reminds me of them.  And dad.  
And the other day, I didn't like the brown tips on the end of the leaves, so I snipped them at the bottom of the stems and cut off all the brown tipped leaves.  I pruned it back a bit, so it could look pretty and grow.  Which reminds me, I need to buy it a new holder that it fits inside of.  Don't you think?  But the old smaller one is so pretty …
Green thumb or no green thumb, which way do you roll?