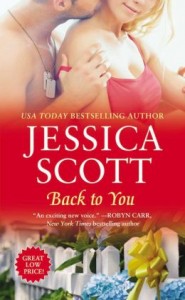 Hi, all! I'm back from RWA and happy to bring you guest author JESSICA SCOTT. Jessica is a very special author – to quote her bio – "USA Today Bestselling author Jessica Scott is a career army officer, mother of two daughters, three cats and three dogs, wife to a career NCO and wrangler of all things stuffed and fluffy."
Thanks for all you do, Jess! And welcome! I've read her eBooks and I'm so excited to bring you Jessica with her first PRINT book for Hachette, BACK TO YOU! The book is available today – and thanks to Hachette and Jessica, I am giving away 3 PRINT COPIES! Read on for more about Jessica and her fabulous book!
******
So excited to be here at Carly's today celebrating my first print book! It's been a long strange trip through my publishing journey but one thing that trip has not involved has been vacation. Like seriously. No vacations from writing or vacations from oh, I don't know, real life. And by vacation I mean a conscious thought to take a break from something for no other reason than you can. I'm not talking forced vacations:) Now, there have been times that I haven't written but I haven't actually looked at those times as vacations. Those were more like my muse had taken an extended break and I wasn't sure if she was coming back or not. I swear, each time, I've quietly been freaking out, wondering if she's left for good and if the last book I wrote really was the last book I ever wrote.
But thankfully, those detours off the writing path have not been sustained and I've started writing again.
Recently, I *really* started writing again. I took an extended break from fiction because of grad school and well, let's be honest, the social construction of reality doesn't mix well with making two fictional people fall in love all over again. My brain was having a heck of a time multitasking.
But with summer "break" (and I use that term loosely because I've been working on sociology every single day), I've rediscovered writing. And not just writing but really enjoying writing again. I knocked out a novella in about three days and let me tell you, it felt amazing to finish that story. It was so awesome to just fall into the page, as Stephen King would say, and just lose myself in the characters and the story.
So I was recently home on "vacation" which wasn't really a vacation as again. I was working on sociology every single day, but my brain seems to think it was on vacation. Funny thing but taking the stress off your brain apparently works to let it think creatively again. So there are now at least three more stories in the queue, waiting for me to free up some actual time and cognitive space to figure them out. And that feels really, really good.
So my question today for readers is what have you taken a break from only to come back and find renewed energy and joy in? It can be anything. A relationship, a favorite food, a song. Talk to me, Goose 🙂 …xoxo Jess

CARLY HERE – COMMENT FOR A CHANCE TO WIN ONE OF 3 PRINT COPIES OF HER NEWEST RELEASE!
MORE ABOUT BACK TO YOU:
"Jessica Scott is an exciting new voice in romantic fiction who bursts upon the scene with an unputdownable debut novel!"
—Robyn Carr, New York Times Bestselling Author on Because of You
He's in for the fight of his life . . .
Army captain Trent Davila loved his wife, Laura, and their two beautiful children. But when he almost lost his life in combat, something inside him died. He couldn't explain the emptiness he felt or bridge the growing distance between him and his family-so he deployed again. And again. And again…until his marriage reached its breaking point. Now, with everything on the line, Trent has one last chance to prove to his wife that he can be the man she needs …if she'll have him
. . . to win back his only love.
Laura is blindsided when Trent returns home. Time and again, he chose his men over his family, and she's just beginning to put the pieces of her shattered heart back together. But when Trent faces a court martial on false charges, only Laura can save him. What begins as an act of kindness to protect his career inflames a desire she thought long buried-and a love that won't be denied. But can she trust that this time he's back to stay?