Leslie Kelly … if you don't know the name, you haven't been reading me forever! Leslie is an original Plotmonkey – the Blog and writing group who entertained you online for over five years. Les is a bestselling Harlequin Blaze author (which is how we met) and we have worked/plotted/and been friends since … oh around the year 2000. There isn't a genre or story Leslie can't write in – and write well. I'm so excited Leslie is writing for the Dare to Love Kindle World – and you're going to ADORE her hero — Marcus "Big" Bigsby — from Dare to Touch!!! She sets the story 6 years after Dare to Touch ends … and gives Marcus his happily ever after. And since so many readers have asked me if Marcus will get his own story … this is your lucky day!
I DARE YOU by LESLIE KELLY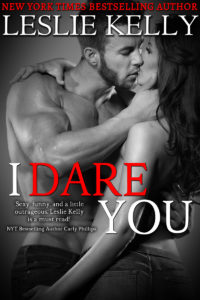 A Leslie Kelly story set in New York Times Bestselling Author Carly Phillips' "Dare To Love" Kindle World!
Marcus "Big" Bigsby is retiring after a successful NFL career, ready for a quiet, simple life on a ranch in Oklahoma. But his plan to forget the past is rocked when he comes face-to-face with his high school dreamgirl, the one who got away…the one he never forgot. 
Blair Tremaine has heard Marcus is living in tiny little Caribou, but she's done her best to avoid him. She'd been crazy about him in high school, but they'd always seemed miles apart–her the bookish rich girl, him the football-playing farmboy. 
Now they're thrown together again, and this time nothing will stop them from finally getting what they've always wanted: each other!
NOTE:
As the world is licensed to Amazon, the books are available on Amazon only. If you aren't a Kindle user, no worries! You can still read the stories on the FREE Kindle APP that you can download on your computer, smart phone or tablet. DOWNLOAD HERE!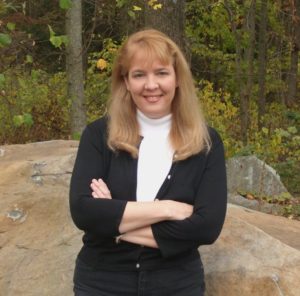 New York Times Bestselling author Leslie Kelly writes sexy contemporary romances and dark romantic thrillers. She is the author of more than sixty novels. A four-time RWA RITA award nominee, Leslie has also been honored with many other awards, including two National Reader Choice Awards, and the Romantic Times Career Achievement Award in Series Romance. 
Leslie lives in New Mexico with her hubby of thirty years and two spoiled, fluffy dogs.