Mandy Harbin – Stripped Dare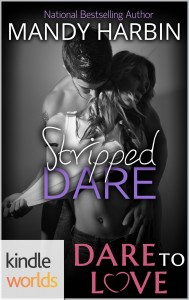 Benjamin "The Death" Bell is a free agent linebacker being courted by the Miami Thunder football team. After four years in Denver and a chilly reception last season, he's definitely interested in being back where the smiles are warm and the faces are familiar. His old friend turned former rival on the field, Alex Dare, is the program director for the team. Benji knows Alex had a hand in the Thunder's sudden interest, but it'll be up to him to prove his worth. He has one goal in mind during his trip to Miami—to seal the deal—but one little blonde woman stumbles into his life, tackling his heart, and stripping him of his senses.
"Heaven" Leigh Davis doesn't have time for men … unless they're paying her. She's a stripper and has avoided men outside of the club for most of the five years she's been dancing. Not that she's available anyway. She also works part-time at the Ritz Plaza Hotel, doing her best to make ends meet, though she's seriously tired of having two jobs. After busting her chops at the hotel, she's now finally up for a promotion. If she gets it, she can quit entertaining and maybe have a normal life. She can't lose focus now … not even when a big, sexy man tackles her at her favorite coffee shop and awakens things inside her she thought long dead. She resists the strong temptation … until he strides into her hotel that night, daring her to feel again.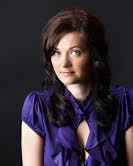 Mandy Harbin is an award-winning, bestselling author of several books across multiple romance genres ranging from contemporary to paranormal erotic romance. She is also the number one bestselling author in teen romance under the pen name M.W. Muse with her popular Goddess Series. She is a Superstar Award recipient, Reader's Crown and RWA Passionate Plume finalist, and has received Night Owl Reviews Top Pick distinction many times. She studied writing at the University of Arkansas at Little Rock, earned several degrees, and even pursued an MBA until she realized becoming an author did not have to remain an unfulfilled dream. Mandy is a PAN member of the RWA, serving on the board of her local chapter, and lives in a small Arkansas town with her family. Although she is a direct descendant of British royalty, they still refuse to call her princess. When she's not penning her latest book, you can find her hanging out online where she loves to connect with fellow readers or stalking Mickey Mouse at Disney World.