I am so excited to bring you all another set of Dare to Love Kindle World books. I feel so humbled and honored that talented writers take their coveted writing time to add something to my Dare world. All the authors are first-timers except for Avery Flynn who came back for more! Woo Hoo! I hope you'll dig in and enjoy them all. I know I did! And because it takes awhile for the links to go live, HERE is where all the Dare to Love Kindle World books are located – you can link directly to each one from there.
Mandy Harbin – Stripped Dare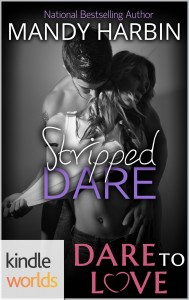 Benjamin "The Death" Bell is a free agent linebacker being courted by the Miami Thunder football team. After four years in Denver and a chilly reception last season, he's definitely interested in being back where the smiles are warm and the faces are familiar. His old friend turned former rival on the field, Alex Dare, is the program director for the team. Benji knows Alex had a hand in the Thunder's sudden interest, but it'll be up to him to prove his worth. He has one goal in mind during his trip to Miami—to seal the deal—but one little blonde woman stumbles into his life, tackling his heart, and stripping him of his senses.
"Heaven" Leigh Davis doesn't have time for men … unless they're paying her. She's a stripper and has avoided men outside of the club for most of the five years she's been dancing. Not that she's available anyway. She also works part-time at the Ritz Plaza Hotel, doing her best to make ends meet, though she's seriously tired of having two jobs. After busting her chops at the hotel, she's now finally up for a promotion. If she gets it, she can quit entertaining and maybe have a normal life. She can't lose focus now … not even when a big, sexy man tackles her at her favorite coffee shop and awakens things inside her she thought long dead. She resists the strong temptation … until he strides into her hotel that night, daring her to feel again.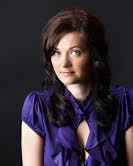 Mandy Harbin is an award-winning, bestselling author of several books across multiple romance genres ranging from contemporary to paranormal erotic romance. She is also the number one bestselling author in teen romance under the pen name M.W. Muse with her popular Goddess Series. She is a Superstar Award recipient, Reader's Crown and RWA Passionate Plume finalist, and has received Night Owl Reviews Top Pick distinction many times. She studied writing at the University of Arkansas at Little Rock, earned several degrees, and even pursued an MBA until she realized becoming an author did not have to remain an unfulfilled dream. Mandy is a PAN member of the RWA, serving on the board of her local chapter, and lives in a small Arkansas town with her family. Although she is a direct descendant of British royalty, they still refuse to call her princess. When she's not penning her latest book, you can find her hanging out online where she loves to connect with fellow readers or stalking Mickey Mouse at Disney World.
Avery Flynn – Daring Ink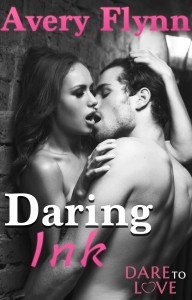 All tattoo shop owner Penny Dare wants is a good night sleep, but the activities of her oversexed neighbor can't be blocked by even the best earphones. When her plans for creative revenge go fabulously right, the cops show up at her door…or at least one very hot, half-naked cop who just happens to be her ridiculously endowed neighbor—if the women's panting praises are to be believed…
Former Miami Thunder running back Sawyer Dixon may have switched careers, but he'd always had a weakness for redheads. Despite all she's heard through the shared wall between their bedrooms, he bets a former teammate that he can land a date with with his sexy neighbor and helping her discover who is stealing her tattoo designs is the perfect way to get on her good side. However, as Sawyer gets to know Penny for more than just her jaw dropping curves, he realizes a single date may not be all he wants. But if she finds out the real reason he agreed to help her, all bets will be off…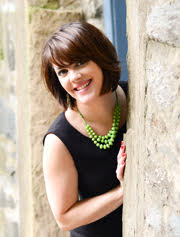 Avery Flynn has three slightly-wild children, loves a hockey-addicted husband and is desperately hoping someone invents the coffee IV drip.
She fell in love with romance while reading Johanna Lindsey's Mallory books. It wasn't long before Avery had read through all the romance offerings at her local library. Needing a romance fix, she turned to Harlequin's four books a month home delivery service to ease the withdrawal symptoms. That worked for a short time, but it wasn't long before the local book stores' staffs knew her by name.
Avery was a reader before she was a writer and hopes to always be both. She loves to write about smartass alpha heroes who are as good with a quip as they are with their *ahem* other God-given talents. Her heroines are feisty, fierce and fantastic. Brainy and brave, these ladies know how to stand on their own two feet and knock the bad guys off theirs.
Also, if you figure out how to send Oreos through the Internet, she'll be your best friend for life.
Bethany Lopez – An Inconvenient Dare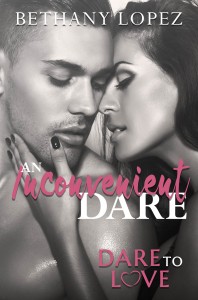 Vanessa has been so busy working her way up the corporate ladder that she's forgotten all about sex over the past two years. When her best friend dares her to pick up a sexy stranger with panty-dropping dimples, she takes the dare and approaches Enrique. Sensing Vanessa's uncertainty, Enrique gives her full control in the bedroom…until he doesn't.
What started as an inconvenient dare turns into more than Vanessa ever expected, but when she learns the secret Enrique's been keeping, will she be able to forgive him, or will she forgo her chance at happiness?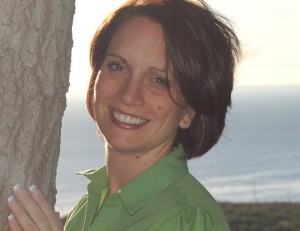 Award-Winning Author Bethany Lopez began self-publishing in June 2011. She's a lover of all things romance: books, movies, music, and life, and she incorporates that into the books she writes. When she isn't reading or writing, she loves spending time with her husband and children, traveling whenever possible. Some of her favorite things are: Kristen Ashley Books, coffee in the morning, and In N Out burgers.
Bethany Lopez is represented by Marisa Corvisiero of Corvisiero Literary Agency.
Cora Seton – Dare Me Again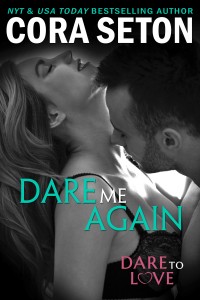 Carolina Richmond makes a career out of being fearless, stepping into male-dominated locker rooms and head offices with equal ease to get the scoop for her ground breaking blog, Going Long. Now it's time for a new adventure: parenthood. But the only thing that terrifies Carolina is committing to a man. That's why she's decided to seduce Connor Wright, a smoking hot football player who's made no secret of his desire for her. She'll accompany him to hotelier Robert Dare's annual birthday bash just long enough to sweep him off his feet, then take him home for a night of passion. When daylight dawns, their relationship will end and she'll be alone once more—and pregnant, if all goes well.
Fullback Connor Wright has wanted Carolina from the very first time she elbowed a path through a post-game locker room crowd to interview him, and he's determined to finally get past the walls she's put up ever since. He's ready to retire from football and settle down to start a family, and with Robert Dare's birthday extravaganza coming up, he'll get one more evening with the woman of his dreams. Can his sexy scheme convince independent Carolina to team up with him for good?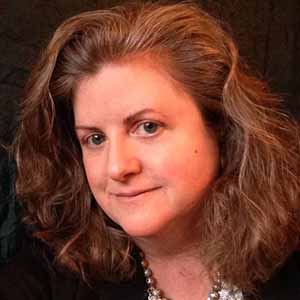 NYT and USA Today bestselling author Cora Seton loves cowboys, country life, gardening, bike-riding, and lazing around with a good book. Mother of four, wife to a computer programmer/eco-farmer, she ditched her California lifestyle ten years ago and moved to a remote logging town in northwestern British Columbia. Like the characters in her Chance Creek series, Cora enjoys old-fashioned pursuits and modern technology, spending mornings transforming an ordinary one-acre lot into a paradise of orchards, berry bushes and market gardens, and afternoons writing the latest Chance Creek romance novel. Visit www.coraseton.com to read about new releases, contests and other cool events!
Tracy Sharp – Wish To Dare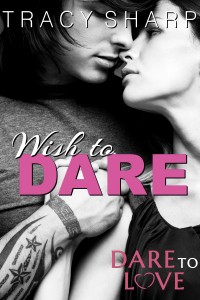 He's finally awake, for the first time in his life. . .
After two years in a coma, Dean Wilson, former running back of the NY Wolves, is turning over a new leaf. He has a new lease on life, and wants to make a difference in the lives of current and retired football players. Being invited to participate in the groundbreaking new training program created by Ian Dare, President of Miami Thunder, is just the opportunity he is looking for. Now he needs to be a role model. No more wild nights and womanizing for him. And no alcohol! Since his head injury, the stuff erases his inhibitions and makes him act in ways that might ruin his blossoming new career.
When he meets the gorgeous Miami Star sports blogger, his decision-making abilities evaporate into thin air.
She's picked up the pieces of her shattered heart, and now Leslie Benson is working hard to build her journalism career. For once, she is putting herself first. But when Leslie's job is suddenly on the line, she needs a juicy story fast. She's willing to do just about anything to get the dirt from former NY Wolf, Dean Wilson, whose famous past affairs include the wives of several celebrities and politicians. Leslie isn't above charming the womanizer into taking a drink or two to loosen his lips. But her plan backfires when she discovers how the notorious bad boy affects her. The powerful cravings of her body are quickly overriding her brain.
But Leslie once allowed love to eclipse her own goals before, and the fall-out was devastating. Will Leslie choose her job over the career and redeemed reputation of the new and improved Dean Wilson? Or will she dare to open herself up to the smoking hot player who has seduced more women than he can remember?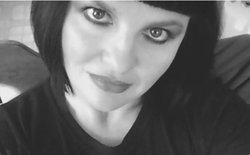 Tracy Sharp grew up in a small mining town in Northern Ontario, Canada, where there wasn't much to do except dress warmly and write stories to entertain herself.
She is fond of horror movies, thrilling novels, bellowing out her favorite songs in the car, iced coffee, flamethrowers and Slinkies.
She lives in Upstate NY with her family
Desiree Holt – Daring to Chance It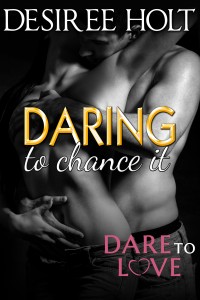 It's kind of a let down in a celebration when your friends you were partying with all go off and leave you, But for Sarah York the night definitely looked up when Beau Perini, Mr. Football God, fills the void with a night of smoking hot sex. But then when she wakes the next morning he's gone without even a note.
Fast forward six years. Sarah has just been hired as the In-house Counsel for he Miami Thunder football team. She's barely settled in her new job when she's invited to attend a press conference for the team's new golden boy free agent, none other than Beau "Mr. Disappearing? Perini himself. She doesn't know whether to congratulate him or shoot him. What she does do is agree to have dinner with him and satisfy her curiosity.
He's still smoking hot but he's also divorced, a single parent, and full of apologies and explanations. She's drawn into a relationship with him, thinking maybe this will work after all. The spark is definitely still there. Until the night it all comes crashing down, and she has to decide if Beau is a flat out liar or just one of the unluckiest men in the world.  
Known the world over as The Oldest Living Erotic Romance Author, Desiree Holt
Has won an EPIC E-Book Award, the Holt Medallion and many other awards. She has been featured on CBS Sunday Morning and in The Village Voice, The Daily Beast, USA Today, The Wall Street Journal, The London Daily Mail and numerous other national and international publications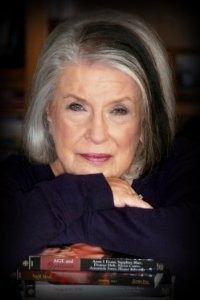 "Get out the ice water and fan…Desiree Holt delivers smoking hot alpha heroes and red hot romances." Lea Franczak, USA Today Happy Ever After blog
Learn more about her and read her novels here:
Twitter @desireeholt
N Kuhn – Daring To Save Me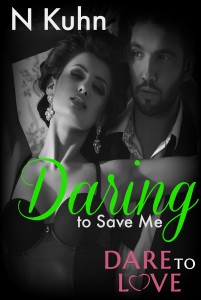 Deena Martes may have killed her ex-husband, Michael. She runs to New York City, to the only friend she has left, Isabelle Dare. Little does she know, the troubling business partners her ex left behind have followed her to the city. They want the evidence against them that she found in Michael's office. The photos are worth more to them than her life.
Detective Nikias Petras was asked by Decklan Dare to babysit his sister in law's friend. Decklan thought this would help get Nik's mind off the problems at work he's had lately. But he can't figure out, is Deena a murderer or just an abused wife who tried to protect herself? She's beautiful, but is it worth it to deal with the drama she brings? As if he doesn't have enough problems with staying sober and not shooting people.
When Michael's ex partners find her, trying to recover evidence she took from them, is Nik daring enough to save her?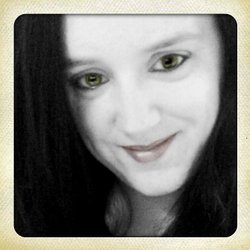 N Kuhn grew up in a small town in Western New York. Having spent her afternoons outside or with a book, she grew up with a love of reading and writing. Her mother and grandmother fully encouraged this in her. She made a promise to her grandmother to fulfill the dream of being an author. Her grandmother lived to see N's name in print. This was a turning moment for her. Driven by ambition and a promise made, she has since published several titles including the Mohawk Trilogy, The Buffalo Rocker Series, the Tricks series and many more titles.
When she's not writing, she can be found playing with her little girl, blogging, reading or crocheting. Her daughter and coffee are her two staples in life. Her love of mixing reality and fiction often brings highly emotional stories and real life issues together into a sexy, romantic story.