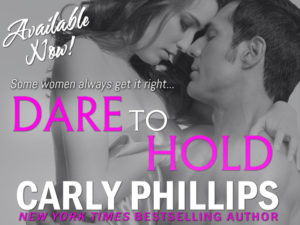 DARE TO HOLD is finally HERE!
Some women always get it right. Kindergarten teacher, Meg Thompson, on the other hand, consistently makes the wrong decisions — and she is currently single, pregnant and alone. Meg is determined to make changes in her life, to be a better mother than her own had been. No revolving door of men. No man, period. Just a single-minded focus on her baby. Her resolution would be easier to keep if not for hot cop, Scott Dare. He insinuates himself in her life, making Meg want to believe in happily ever after, even if history has taught her to know better.
When Scott Dare hears Meg's friends are determined she have a night of hot sex, before her life changes forever, he decides that man must be him. Their one night is mind blowing and life altering. And Scott, a man already burned by his ex-wife, finds himself all in anyway. While protecting Meg from her violent ex and becoming part of her increasingly complicated life, he's falling hard and he can't seem to find distance. Not when their bodies respond to each other with such heated intensity and he's drawn to her unique combination of strength and vulnerability.
But Meg's future is one Scott has accepted he'll never have, even if his growing feelings say otherwise …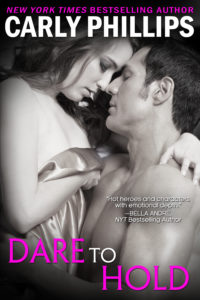 Dare to Hold – AVAILABLE TODAY
Kindle – http://amzn.to/1BCvAcJ 
Nook – http://tinyurl.com/ozctnnl
iBooks – http://tinyurl.com/nhyogod
Kobo – http://tinyurl.com/plm2vrm
Google Play – http://tinyurl.com/pxleov3
Print – http://amzn.to/1CZphio
Audio – coming late spring