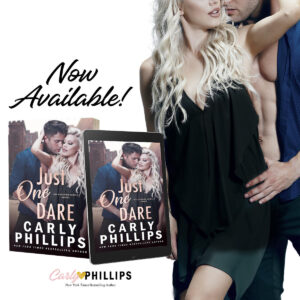 READ JUST ONE DARE TODAY!
More Kingstons! More Dares! More Sexy Fun!
Guess who is Aurora's baby daddy?
I'm so excited to bring you Aurora Kingston and Nick Dare!
You've never read anything sweeter than Leah and Nick meeting for the first time.
What Reviewers Are Saying:
Heartwarming and romantic, with all the feels, Just One Dare will suck you in and not let you go. This surprise baby romance will keep you up way past your bedtime and have you rooting for the characters from the moment they reconnect. My new favorite Carly Phillips story! —Catherine Cowles, author of Tattered Stars
Cinderella steps off the page and into your heart. Just One Dare is my favorite Carly Phillips novel and I've read quite a few. Phillips continues to cast her spell with tempting stories of love, heartache and hope that stay on your mind and in your heart long after the last page ends. —Isha, Hopeless Romantic
I loved every single second of this story, no lie, and I was not able to stop reading, even when I went hours past my bedtime on a work night (which is a miracle for me!). —Michelle the Romance Witch
Carly Phillips once again writes an epic love story where she brings the alpha billionaire to his knees.—Nicki, The Overflowing Bookcase
Get your copy today! I hope you enjoy!
Kindle:  https://smarturl.it/OneDareKindle
Nook:  https://smarturl.it/OneDareNook
Apple:  https://smarturl.it/OneDareApple
Kobo:  https://smarturl.it/OneDareKobo
Googleplay:  https://smarturl.it/OneDareGoogle
Amazon Print:  https://smarturl.it/OneDareAmzPrint
Audio Coming June 7th (with apologies, due to illness in family this year's audios will be later)
Narrated by: Samantha Cook and Jason Clarke
PREORDER TODAY:
Audible:  https://smarturl.it/OneDareAudible
Amazon Audio:  https://smarturl.it/OneDareAmzAudio
Take care and happy reading!
Xo
Carly