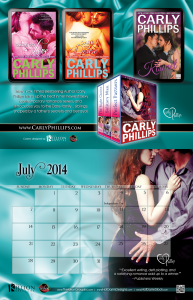 I did some office cleaning last weekend. So much my daughter, Mini-Me, called me a packrat. I would be offended except that my mom used to drag massive large green garbage bags to the street after I cleaned my cabinets as a teen. My grandma would help me. I'd try to save things they put in the "get rid of" pile. This ended up being just as bad. So in our cleaning, I ended up with a HUGE BOX OF SWAG AND CARLY ITEMS … :cheerleader2:
So today's giveaway is this: SURPRISE CARLY SWAG – I promise the cool Kim Killion 2014-2015 Calendar … JULY is my month (pic here) – and I'm sorry it's late but better late than never on that … and I will fill up a Goody Bag of surprise swag. I don't just mean bookmarks!
Post a comment to enter – what's the last Carly Phillips book you read? It's OK to say I haven't read yet. Of course I'd love it if you said you had one in your TBR and listed it, but even if you've never read me, you have an honest chance to win!