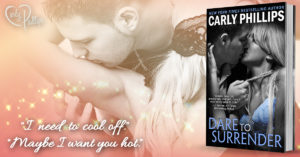 #TeaserTuesday Dare to Surrender
Our bodies connected, my legs wrapping around his waist, my hot core rubbing against his hard length. "You're not helping me cool down," he said, sounding more playful than I'd ever heard from him before.
I actually thought Gabe was letting down walls, and I wanted to see more. I also wanted to play. "Maybe I want you hot." I leaned in and nipped at his earlobe.
A shudder racked his big body, and instinctively, I began rocking against him, pleasure consuming me.
He groaned and pulled the string on my bikini top, releasing the tie, and the suit fell to my waist. The warm sun hit my bare breasts, as strong as Gabe's always-intense gaze. He dipped his head and swirled his tongue around my breast and over my nipple, pulling on the tight bud with his tongue.
I arched my back, pushing myself closer, giving him more of me, and he took, lapping at my breast, nibbling and grazing my taut nipple with his teeth until I thought I'd come from those exquisite sensations alone.
@ CP Publishing 2016
Kindle – http://smarturl.it/DTSurrenderKindle
Nook – http://smarturl.it/DTSurrenderNook
iBooks – http://smarturl.it/DTSurrenderiBooks
Kobo – http://smarturl.it/DTSurrenderKobo
GooglePlay – http://smarturl.it/DTSurrenderGoogle
ARe – http://smarturl.it/DTSurrenderARe
Amazon Print – http://smarturl.it/DTSurrenderAmzPrint
BN Print – http://smarturl.it/DTSurrenderBNPrint
Audible – http://smarturl.it/DTSurrenderAudible
Amazon Audio – http://smarturl.it/DTSurrenderAmznAudio
iTunes Audio – http://smarturl.it/DTSurrenderiTunesAud