#ThrowbackThursday Suddenly Love
Do you ever really forget your first love?
Lissa Gardelli hasn't seen Trevor Dane since he left their small town to earn his spot on the right side of the tracks. Ten years have passed but neither has really moved on from their passionate teenage affair or the heartbreak that followed. What starts out as business quickly moves into the bedroom and they discover the sparks between them burn brighter than ever. This reunion can be their second chance, if Trevor can accept everything about Lissa, including her daughter.
*This title has been previously published as Kismet**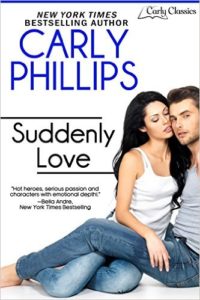 Kindle http://smarturl.it/SuddenLoveKindle
Amazon Paperback http://smarturl.it/SuddenAmPaperback
Nook http://smarturl.it/SuddenLoveNook
BN Paperback http://smarturl.it/SuddenBNPaperback
Kobo http://smarturl.it/SuddenLoveKobo
iBooks http://smarturl.it/SuddenLoveiBooks
Google http://smarturl.it/SuddenLoveGoogle