#TeaserTuesday
– Dare to Hold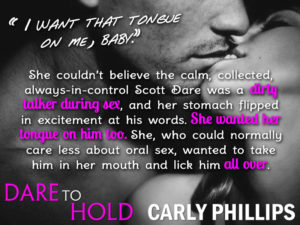 He was a sculpted work of art, and she watched him greedily. Ran her tongue over her lips.
"I want that tongue on me, baby."
She couldn't believe the calm, collected, always-in-control Scott Dare was a dirty talker during sex, and her stomach flipped in excitement at his words. She wanted her tongue on him too. She, who could normally care less about oral sex, wanted to take him in her mouth and lick him all over.
"So come here and let me," she said, shocked at the gravelly tone of her voice.
His gaze narrowed. "Who calls the shots?" he asked, unbuttoning his jeans and pulling them down over narrow hips. He'd hooked his thumbs into his boxers or briefs, she didn't know which because they were gone along with his jeans and she couldn't tear her gaze away from his thick, hard cock.
"Was that an answer?" he asked.