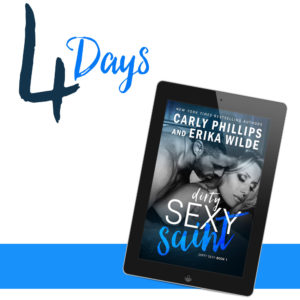 Forgive the second blog in one day … I'm getting so excited about my upcoming release!
We met 20 years ago, became BFF's and critique partners. in 4 days our first collaboration is LIVE! Don't miss out on DIRTY SEXY SAINT, the ultimate combination of Carly Phillips & Erika Wilde!
Did you enter to win a prize pack?
Each da weI are giving away TWO Dirty Sexy goody packs in our private fan pages!
For details on how to enter to win, just visit our fan pages and comment on the pinned post!
Carly Phillips Fan Page – http://smarturl.it/CarlysCornerFB
Erika Wilde Fan Page – http://smarturl.it/ErikaWildeFanPage
PREORDER NOW!
Kindle – http://smarturl.it/SaintKindle
Amazon Universal Link – ALL COUNTRIES:
myBook.to/DSSaintAmazon
Nook – http://smarturl.it/SaintNook
Kobo – http://smarturl.it/SaintKobo
iBooks – http://smarturl.it/SaintiBooks
Print Amazon – http://smarturl.it/SaintPrintAmazon