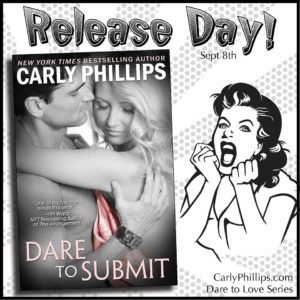 There are things that make the hard stuff worthwhile …the friends who support me, the readers who stick by me, the people who understand me … and the bloggers and reviewers who get me.

SAME BOOK DIFFERENT REVIEW on DARE TO SUBMIT:
5 STARS:
"These characters show more depth in these pages, than some people in real life. As for the story, well there's a whole lot more at play than just Amanda and Decklan's relationship. I have to say the class with which some of this subject matter was handled is phenomenal. Its brings to light a couple of very serious issues. I'll leave it to you to read about them, but I was blown away that an author could bring such relevant and important matters into play and up the ante across the board with this book. All in all, I highly recommend Dare to Submit. It's sure to be a favorite of mine for the year and I will laying in wait for the next in the series."

BUY LINKS:
Kindle
Nook
iBooks
Print
Kobo
GooglePlay
ARe
DARE TO TOUCH – 12/29/14
Olivia Dare & Dylan Rhodes
PREORDER:
iBooks  (exclusive preorder)
Kindle/Print/Kobo/GooglePlay/ARe – Preorder coming soon!
BN.com – available on release day!