What happens when a group of authors decide to get together so they can help each other while offering their readers quality books to read? INK HEART AUTHORS happens! I'll be telling you a lot more about Ink Heart over the coming weeks, but here is a list of Ink Heart author books out this month. I'll add a little bit about what I know of each book … just like I always do on WHAT ARE YOU READING SATURDAYS!
NOTE – some of the books below are on the erotic romance / hot scale … as in menage and more.  Mari Carr, Lauren Blakely, Opal Carew, Shayla Black & Lexi Blake.  I've read them and they rock.  Jane Porter, Kaira Rouda are awesome authors who bring you something milder and always deliver a great story! Finally, the Invitation to Eden authors bring you hot hot hot romance and start off the series with a bang!  I always want you to know the genre/heat of the books I'm recommending!
FULL POSITION BY MARI CARR ($2.99) How much is she willing to risk for a forbidden fantasy? Though Bella Carper has crushed on Justin and Ned since her first day on the job, she's smart enough to know a ménage with her hot bosses is probably number one on the list of workplace no-nos. But a frigid genius wouldn't say no to their exceptionally tempting offer — a no-holds-barred night of wicked fantasies at a local sex club. Justin and Ned believe in propriety in the workplace, but falling for their sexy graphic artist has blurred the line between professional and personal. These Big Easy men might surprise their small-town girl with their bedroom habits. But the biggest shock could come the morning after…when Bella discovers what they really want. Buy it on Amazon or Barnes and Noble.     (From Carly – Mari's book is sizzling … and touching!) 
NIGHT AFTER NIGHT by LAUREN BLAKELY ($0.99) Their world was sex, love, and lies. He intoxicated her. Commanded. Consumed. With a dirty mind and a mouth to match, Clay Nichols is everything Julia never knew she wanted and exactly what she cannot have. He walked into her life one night and unlocked pleasure in her that she never knew was possible. Possessing her body, captivating her every thought. Which makes him way too dangerous for Julia to risk her heart, given that she has a price tag on her head. She ran after one mind-blowing week with him, but now he's back, and determined to make her his own. No matter the cost. She was a sexy drug to him. Fiery, unforgettable, and never enough, Julia is an enigma, and Clay isn't willing to let her go without a fight. But she's got dark secrets of her own that threaten to destroy any chance of happiness. She's a wanted woman – the stakes are high, her every move is watched, and yet the lure between them can't be denied. Can two people burned by love trust again when desire and passion are met by danger at every turn? A sensual, emotionally-charged erotic romance from the New York Times and USA Today Bestselling author Lauren Blakely… Please note: This book is intended for 18+ due to dirty talk, light bondage, and lots of sexy scenes. This ebook edition also includes the prequel novella First Night, which precedes Night After Night. Buy now from Amazon.
HOT RIDE by OPAL CAREW ($2.99) Hot, hard, fast, and handles like a dream! Oh yeah, and the bike's not bad either. Hayley is looking for more excitement in her life, but doesn't know how to find it. Excitement finds Rip, a biker who's seen more than his share of trouble. When trouble finds Rip yet again and a bar brawl starts, both he and Hayley are thrown to the curb. Hayley knows this is her chance to find the excitement she so craves, but Rip doesn't want to be some good girl's bad-boy experience, so he turns down her advances, leaving her feeling rejected. But life is never that simple for Rip, and he soon finds himself in her bed and wanting more. When his three biker friends show up, Hayley's love of numbers turns into an erotic adventure none of them will ever forget. But is there a chance for more than that between Hayley and Rip? Find out by taking a Hot Ride you'll never forget. (From Carly – one of the hottest books EVER … ) Buy from Amazon, or Barnes and Noble, or Kobo.  
  RED HOT FANTASIES (BOXED SET) ($2.99) What if your deepest sexual fantasies could come true? Bad boys, alpha males, and dominants… three red hot fantasies from New York Times Bestselling Author Opal Carew. Buy it from Amazon, Barnes and Noble, or Kobo.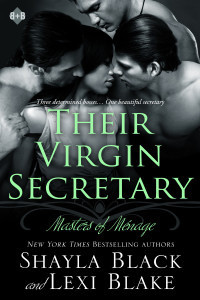 THEIR VIRGIN SECRATARY by SHAYLA BLACK and LEXI BLAKE ($4.99) Three determined bosses… Tate Baxter, Eric Cohen, and Kellan Kent are partners for one of the most respected law practices in Chicago. But these three masters of the courtroom also share a partnership in the bedroom, fulfilling the darkest needs of their female submissives night after night. Everything was fine—until they hired Annabelle Wright as their administrative assistant. One beautiful secretary… Belle felt sure she'd hit the jackpot with her job, but in the last year, the three gorgeous attorneys have become far more than her bosses. They're her friends, her protectors, and in Belle's dreams, they're her lovers, too. But she's given her heart to them all, so how can she choose just one? An unforgettable night… When her bosses escort her to a wedding, drinks and dancing turn into foreplay and fantasy. Between heated kisses, Belle admits her innocence. Surprise becomes contention and tempers flare. Heartbroken and unwilling to drive them apart, Belle leaves the firm and flees to New Orleans. That leads to danger. Resolved to restore her late grandmother's home, she hopes she can move on without the men. Then Kellan, Tate, and Eric show up at her doorstep, seeking another chance. But something sinister is at work in the Crescent City and its sights are set on her. Before the trio can claim Annabelle for good, they just might have to save her life. (From Carly – This is another in the Virgin series that delivers! HOT and fun!) Buy it from Amazon or Kobo.    
BEAUTY'S KISS – JANE PORTER Taylor Harris–Marietta, Montana's new librarian–is the quiet type who likes her glamour between the book covers. When she's pushed into attending the formal Valentine Ball with Marietta's Most Eligible Bachelor, Troy Sheenan, Taylor can't imagine a worse pairing. What in the world would she have in common with a wealthy playboy like Troy? Technology tycoon Troy is forced by business concerns to return to his hometown and take the town librarian to the Valentine Ball… what he doesn't expect is that Taylor is even less excited about the prospect than he is! Intrigued by the only woman in town who wouldn't be thrilled to take his arm at the big event, he's determined that she will not just agree to be his date… bur she's going to like it. Can Taylor turn a cold shoulder to Troy's heart-melting charms, or is this about to be Marietta's hottest Valentine's Ball yet? Buy it from Amazon.         
ALL THE DIFFERENCE by KAIRA ROUDA (on SALE for $0.99 for a limited time!) Roommates Laura and Angie couldn't be more different. Laura is a local celebrity, the television anchor who is motivated to move out of small-time media markets and on to the big time, no matter the cost. Meanwhile, Angie, a luckless waitress, spends her time waiting for Mr. Right to save her from temporary jobs and a life spent making bad choices. On the other side of town, Ellen abandons her life as a successful fundraiser for that of an isolated housewife in the country estate she shares with her husband, whose affairs become increasingly hard to ignore. When the city's gossip columnist, Maddie, and restaurant reviewer, Dixon, become involved in the mystery, the unlikely duo stir up more than they intended. But will anyone be able to stop the next murder?   Buy it from Amazon, or Barnes and Noble.      
And, of course, the new releases in the Eden series – Join us on the ISLAND! I, FOR ONE, CAN'T WAIT!
Go HERE for more informationon all three Eden stories (only $2.99 each)!
Available everywhere! Amazon links below. Others click above!
Yours Truly Taddy, Avery Aster – Kindle
Random Acts of Fantasy, Julia Kent – Kindle
Escape from Reality, Adriana Hunter – Kindle
****
And last but certainly NOT least – what I've read on vacation in addition to the above books mentioned? Well, SOPHIE OAK'S NIGHTS IN BLISS series – Amazon Link … and can I just tell you it's like my old Hot Zone Uncle Yank wackiness, a touch of Kiss Me if You Can on the funny characters, zany small town loveable characters, a suspense plot to keep things moving including the relationships which are … well menage.  So read at your own risk.  But if threesome reading appeals? These rock. I'm devouring them book by book by book!
OMG – so many books!! My ereader is filling up fast. It seems like my besties are as busy as me when it comes to productivity. 🙂
Hope you enjoy the stories!
Happy reading! 🙂