Hi, all. First up, Happy Father's Day. Today is a really rough day for me – I lost my dad a little over a year and a half ago, so forgive me for not doing a big celebration mention like I do for other holidays. I adore my husband and we'll do a small family get together to celebrate here.
Onward … I owe you a winner on the Opal Carew giveaway as well as Friday's Dare to Surrender eBook winner!
The winner of the Opal Carew ebook, TAKEN BY STORM IS: # 13 Linda Brennan!
Linda, please email me at carly phillips author at gmail dot com with your email/book format – kindle/nook etc. and I will forward your email to Opal to receive your book!

The winner of the e-ARC of DARE TO SURRENDER IS: Darlene Holley!
Darlene has been notified via email. Thanks to everyone who entered!
****
The TEESPRING CAMPAIGN for the DARE TO WANT MORE … BOOKS! Teeshirts met it's goal and the tees will be printed. You can still order yourself a hoodie, tee shirt or tank – 3 more days! 
Treat the reader in your life right or just wear your love of books! Available for purchase – tee, tank or hoodie – for 4 more days! CLICK HERE TO ORDER! Or copy and paste this link:
www.teespring.com/Daretowantmore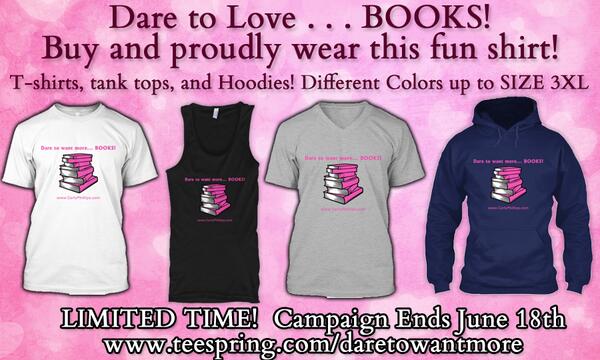 HAPPY SUNDAY! :snoopydance: