The Latest News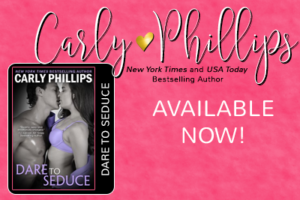 Dare to Seduce – Available Now!!
Max Savage has had a thing for Lucy Dare for as long as he can remember but he values his long standing friendship with her brothers too much to cross the line. When Lucy shows up at an engagement party on the arms of another man, Max doesn't like the changes he sees in her. It's now or never. Max can think of one way to convince Lucy she's with the wrong guy. He'll dare to seduce her …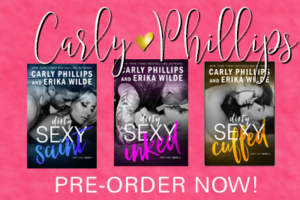 Exclusive Dirty Sexy Pre-Orders
New York Times bestselling authors Carly Phillips and Erika Wilde bring you a dirty, sexy, smoking hot SERIES featuring three bad boy brothers bonded by shocking secrets and their damaged past. Sinful, addicting, and unapologetically alpha, these men are every woman's erotic daydream … And your ultimate dirty fantasy.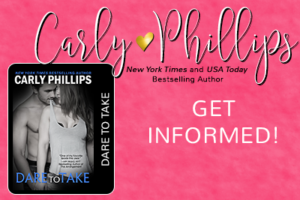 Get Informed when DARE TO TAKE is available!
Dare to Take is coming in Mid-March! Sign up to get informed!
Home •• Meet Carly •• Bookshelf •• News •• Kindle Worlds •• Contact
© 2013-2015 Carly Phillips. All rights reserved.
Logo design by Hang Le
Site designed and maintained by
.