A Tempting Dare by Author Cathryn Fox
http://amzn.to/1NN8xNl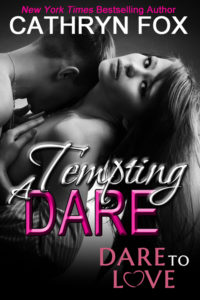 The last place Miami divorce attorney, Katherine Quinn wants to be is at her family's Hampton home for their annual reunion, especially when she sets eyes on him. Sebastian James: hot shot sports medicine doctor for Miami Thunder, her big brother's best friend, and the only guy she's ever really wanted. What will it take for him to see that his Kitty Kat is all grown up, and just waiting for him to make her purr? Her friend dares her to seduce him. How tempting. Jaded by her career, she isn't looking for love, but a weekend of hot sex to pass the time is just what she needs to get through the weekend.
It's been a long ten years of look but don't touch, and Sebastian has almost reached his limit, especially when Kat initiates a plan of seduction guaranteed to test his resolve as well as his professionalism. Her sweet kisses and searing touches threaten his loyalty to her brother, but he's willing to risk it all to show her he's the kind of man she doesn't believe exists.
Will this cynical divorce lawyer still be his when the weekend ends, or will she serve him his walking papers and close the file on what could have been forever?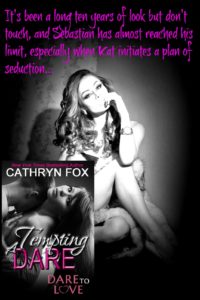 Meet Cathryn Fox
New York Times and USA Today bestselling author, Cathryn is a wife, mom, sister, daughter, and friend. She loves dogs, sunny weather, anything chocolate (she never says no to a brownie) pizza and red wine. She has two teenagers who keep her busy with their never ending activities, and a husband who is convinced he can turn her into a mixed martial arts fan. Cathryn can never find balance in her life, is always trying to find time to go to the gym, can never keep up with emails, Facebook or Twitter and tries to write page-turning books that her readers will love.
Connect with Cathryn:
If you're interested in joining Foxy Fiction, Cathryn's street team, please send a request to: Foxy Fiction