An Elite Dare by Angel Payne: Books, News and Updates
http://amzn.to/1QxKHoL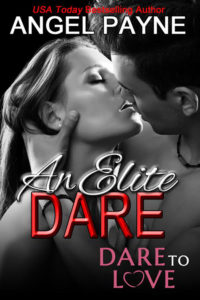 Some would call it sacrilege.
I'm living Paris for a whole month. The city of light and lovers—and now, the newest jewel in Gabriel Dare's nightclub empire, the Elite Paris, with me as its grand opening DJ—means I'm living a dream. But I don't want it. I'm only in this for the money, period. Even then, I never would have considered the gig if not for the pleas of my newest friend, Avery Dare. You see, Avery and I share a few commonalities—like daddy issues. Maybe confronting mine, and earning a nice bonus while I'm at it, will be the key to finally putting my past behind me.
I never asked fate to set up an alternate plan. But the bitch did. Royally.
Out of all the nightclubs in the city to invest in, Lucien Paget picked Gabriel's. Now, the billionaire with the gaze of a demon and the body of an archangel has decided on a new challenge for himself. Me.
It's pretty hysterical, this little "dare" of his—made even funnier by the money he insists on throwing behind it. But it's his fortune, and if he wants to invest it in a few platonic dates with me, who am I to argue? He probably thinks his impossible beauty will sway me toward giving up the "extras"…and that his charm will topple me into true love. Well, the joke's on him.
Then why am I not laughing?
Why do I want to atone for my sacrilege…by giving in to Lucien's sinful desire?
Meet Angel Payne
USA Today bestselling romance author Angel Payne has been reading and writing her entire life, though her love for romances began in junior high, when writing with friends on "swap stories" they'd trade between classes. Needless to say, those stories involved lots of angst, groping, drama, and gooey kissing.
She began getting a paycheck for her writing in her twenties, writing record reviews for a Beverly Hills-based dance music magazine. Some years, various entertainment industry gigs, and a number of years in the hospitality industry later, Angel returned to the thing she loves the most: creating character-based romantic fiction. Along the way, she also graduated with two degrees from Chapman University in Southern California, taking departmental honors for English, before writing five historical romances for Kensington and Bantam/Doubleday/Dell.
Angel found a true home in writing contemporary-based romances that feature high heat and high concepts, focusing on memorable alpha men and the women who tame them. She has numerous book series to her credit, including the Kinky Truth series, the Secrets of Stone series (with Victoria Blue), the W.I.L.D. Boys of Special Forces series, and the acclaimed Cimarron series. Temptation Court, a new series being launched through the Dark Nights Discovery project, debuts in 2016.
Angel still lives in Southern California, where she is married to her soul mate and lives on a street that looks like Brigadoon, with their awesome daughter and Lady Claire, the dog with impeccable manners. When not writing, she enjoys reading, pop culture, alt rock, cute shoes, enjoying the outdoors, and being a gym rat.