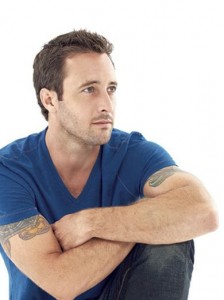 Yes, Alex O'Laughlin really does remind me of Alex Dare (maybe a little older).  And MY Alex  wants you to know – He really IS working on his relationship with Ian (DARE TO LOVE) … Really.  16 Days & Counting!
SNIPPET from DARE TO DESIRE:
"I get why you walked out on Riley after she landed herself in the hospital," Alex admitted as the guy behind the bar slid a tumbler toward Ian.
His brother took a long sip.  "Can't say it was one of my finer moments.  Looking back, I don't think it was the right way to handle things."
Alex raised an eyebrow.  "What would've worked better?"  They both knew Riley had been as stubborn in her own beliefs as Madison now was in hers.
"I should have cuffed her to the bed until she saw reason."  Ian lifted his glass.  "A little dominance once in awhile doesn't hurt."
Alex shook his head and grinned.  "Probably more than I want to know about your relationship, but I get your point."  He swallowed a gulp, closing his eyes at the soothing burn.  "I threatened to take her over my knee," he muttered.
Ian shrugged.  "So do it."  — @ CP Publishing, 2014
Preorder DARE TO DESIRE  in case I haven't mentioned it enough (and I really do appreciate your patience with the promo):
Do you like picturing actors or models as characters or do you prefer an blank canvas in your mind?