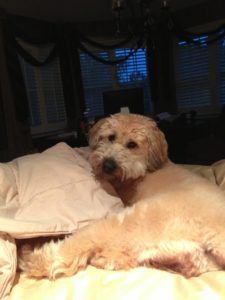 Bailey thinks Brady's been a blog hog.  She's said she wants to speak today. 
First – The winners of the LAURELIN PAIGE Contest are:
1. Blog # 36 – Sue G.
2. Blog # 49 – Rachael B.
3. FB poster – Sandra Hrstic Murphy
4. FB poster – Bonnie Crum
5. Blog # 57 – Marie R.
Winners! CONGRATULATIONS and please email me at: carly phillips author @ g mail . com (no spaces) with your ebook format choice and I will forward your information/email to Laurelin!
******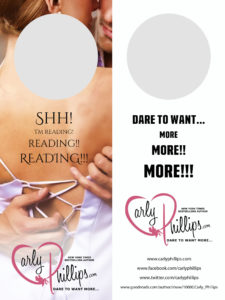 NEXT ORDER OF BUSINESS! GOODIES!
Carly has the most awesome glossy fabulous DOOR HANGERS she wants to get into your hands!  All you need to do is send me an SASE (self addressed stamped envelope) – regular white but long size (not short check size) with a note letting me know if you want a Dare to Love/Desire bookmark thrown in. I know some of you already have them.  SEND TO:
CARLY PHILLIPS
Door Hangers
P.O. Box 483
Purchase, NY 10577
Ooh I like being in charge … WOOF!
SURPRISE! CONTEST CONTEST CONTEST!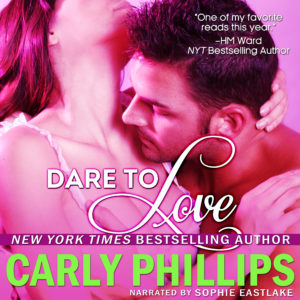 Now something cool, just because I can.  And honestly it'll test whether you read all the way through the blog.  LOL.  One lucky winner who comments will receive a FREE Audible Code to download the audio of DARE TO LOVE, narrated by the fabulous Sophie Eastlake.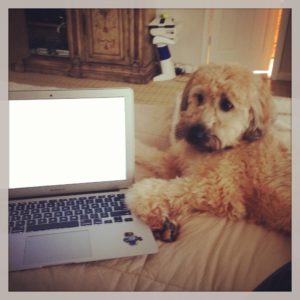 Carly said to ask you to tell her your favorite TV show this year for a chance to win the audio! And if enough people comment, I might be able to convince her to give away more than one audio code.

Because I'm just that SPECIAL.  WOOF.  Now go comment!